As coronavirus cases began to increase in the Puget Sound region, so too did the concerns of the significantly increased risk of exposure and infection.  These concerns have severely affected local businesses.  Even with this impact, it has not stopped restaurants from stepping up to support their community.
Take-Out and Delivery Only
Local businesses began to feel the impact of the COVID-19 pandemic early.  Social distancing promoted staying home, and concerns about cleaning practices darkened the doorsteps of many restaurants.  On March 16th, Governor Inslee ordered dine-in services to halt.  This forced restaurant owners to decide if they would switch to a take-out and delivery model or shutter their doors until the order is lifted.
Currently, the BuyLocalAuburn.com website lists 117 restaurants that have remained open with take-out and delivery options.  This has allowed many to continue to support local during the Stay Home Order.  However, for many restaurants, this model isn't sustainable.
Rainbow Café owner Giovanni DiQuattro shared that while he is still getting orders, the café's customer base are sit-down customers.  The income from current orders at the Rainbow Café is just enough to cover some bills and food refreshing.
DiQuattro observed that it somewhat helped soften the blow if a restaurant already had take-out and delivery in their business model.  Athens Pizza and Pasta and Gor Gai Thai are both such restaurants, but that has not stopped them from having to work hard to ensure the public knows they are open.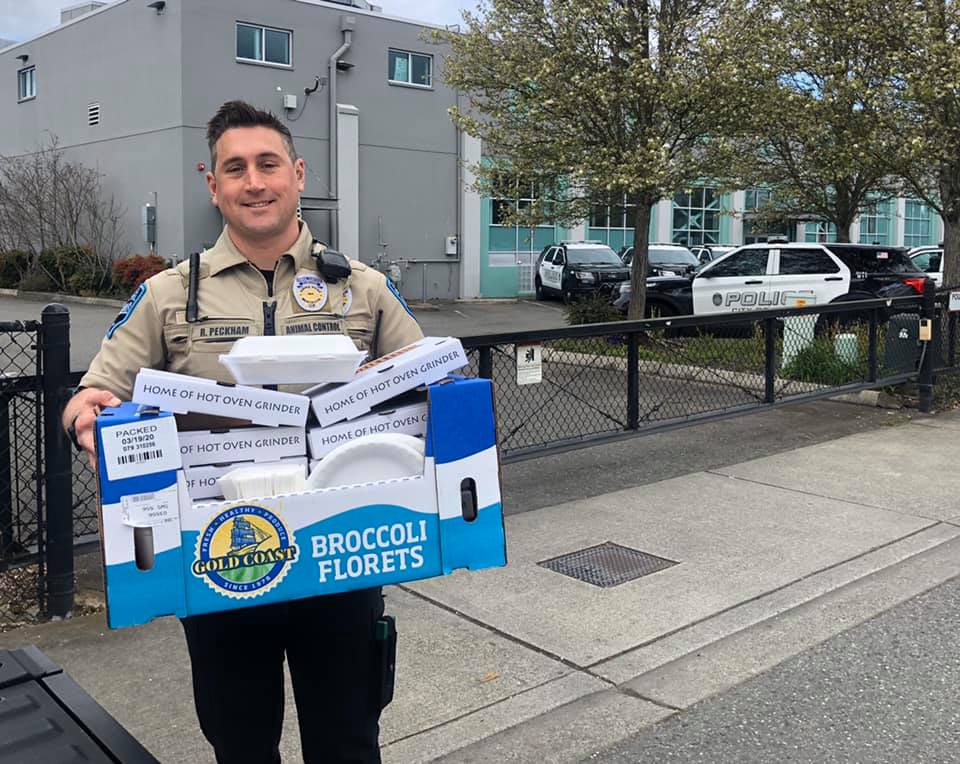 Meals for MultiCare Auburn Medical Staff
To help support their member restaurants, the Downtown Auburn Cooperative is paying for lunches and coffees for the ER staff at MultiCare Auburn Medical Center throughout April.  Every Wednesday and Friday in April day shift receive lunches.  Tuesday and Thursday evening shift receive coffee and snacks.  The current participating restaurants from the Downtown Auburn Cooperative are Big Foot Java (Auburn Way S), Gosanko Chocolate, Little Caesars, Longhorn BBQ/Oddfellas, Rail Hop'n Brewery Co., Rainbow Café, Urban Chops and Zola's.
"This is a fantastic thing to do to help our community. And right now, we all could use a lift up of spirits," said Cheryl Rakes, Downtown Auburn Cooperative President. "[There is] nothing better than giving back."
Some of the restaurants are donating items, allowing the meals to go into May should the Stay Home Order continue.
Other local restaurants have also been expressing their gratitude to those on the frontlines.  After a customer made a generous donation, Athens Pizza and Pasta matched it. They provided a pizza lunch to the Auburn Police Department.  Domino's Pizza (Auburn Way S) also donated pizza to on-shift officers.
With words of encouragement written on each container, Gor Gai Thai Street Food delivered food to MultiCare Auburn Medical Center on Monday.   This is the second time Gor Gai Thai has provided meals to hospital workers.  On March 31st, they offered a free meal to any hospital worker who showed their ID.
On Sweet Rice's Facebook page, they said, "with the outpouring love and support we are receiving, we want to pay it forward and show our appreciation." To pay it forward, the Loa/Thai restaurant donated food to Pacific Medical Centers.
Al Lago restaurant also donated 40 dinners to the staff at MultiCare Auburn Medical Center.
Help our Heroes – Meals for the Front Line
Business partners Matthew Altick and David Allen, owners of Longhorn Barbecue, Oddfella's Pub & Eatery and Bogey's Public House, have launched a GoFundMe campaign to provide meals for the front line.  The campaign began on April 4th with a goal of $2,500.  Just under $1,500 has been raised.
On April 10th they shared an update of the first delivery of meals.  "We were able to provide Box Lunches for 100 Front line Medical professionals today at MultiCare Auburn Medical Center. Thank you for your generous donations that helped make this happen!"
The Soup Ladies
Mama Ginger Passarelli and the Soup Ladies volunteers have been cooking around the clock and covering a lot of ground.  Serving King, Pierce, and Snohomish counties, the Soup Ladies are making sure first responders on the frontline are getting a good home-cooked meal from the heart while on duty.   In Auburn, the Soup Ladies have provided meals to Valley Communications, Valley Regional Fire Authority, and the Auburn Police Department.
A Facebook post from VRFA best describes the work of the Soup Ladies.  "The Soup Ladies have been our saviors on many incident scenes, and today they continued their caring ways by dropping off their delicious soups at each of our fire stations. What a wonderful way to warm our hearts and fill our bellies."
In addition to providing meals to medical professionals and first responders, restaurants are supporting each other.  Social media posts showing their orders from local restaurants have become common as small business owners band together, encouraging each other and the community during these uncertain times.
If you would like to help local restaurants and businesses, please order take-out or delivery, buy gift cards, or donate for another patron to receive a meal.  Check Http://www.BuyLocalAuburn.com for a list of restaurants currently offering take-out and/or delivery.  Go to www.SoupLadies.org to help support the Soup Ladies' efforts.