Newly appointed Valley Regional Fire Authority Chief and Administrator Brad Thompson has a funny way of making complex topics simple. "When doors opened, I walked through them," he said when asked how he became Chief.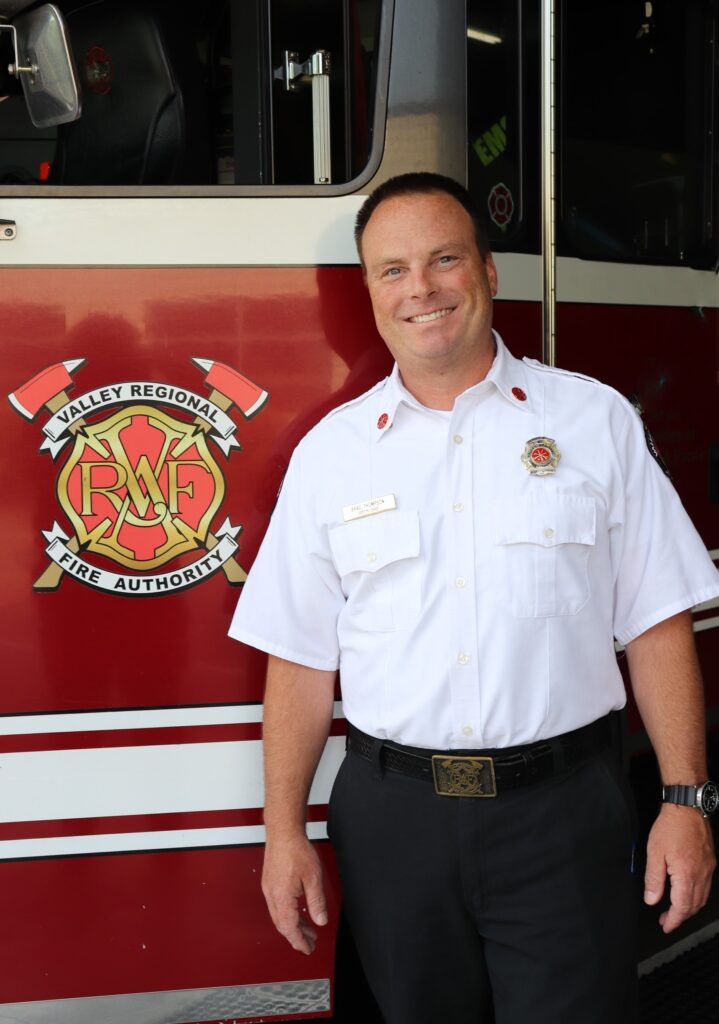 Fulfillment in Fire Service
An employee with Valley Regional Fire Department (Auburn Fire Department), for 22 years, Thompson knew he found his calling when he left his corporate sales job to pursue something more fulfilling. He gave up corporate perks of Seahawks tickets and fine dining at restaurants for a fire helmet and tight-knit team.
He quickly learned there were many more different positions in the department than he realized. After spending some time in the planning and logistics department, he kept exploring more options with VRFA.  He's never shied away from the challenges of the job, and to him, that's his favorite part. 
"I think it's really easy to become comfortable. I think we all seek comfort. But then it doesn't always lead to growth. So getting comfortable with being uncomfortable is something that I've had several leaders challenge me with," Thompson said. 
Newly retired VRFA Chief Brent Swearingen's leadership style really drove that idea home. Thompson recalled how often times Swearingen would challenge the team about why they did things a certain way, even down to the simplest tasks such as using a certain pump pressure on hose lines. Those questions taught Thompson to always ask himself as a leader, "Is what you've always done good enough?" 
Change of Command
The VRFA Board of Governance appointed Deputy Chief of Operations Brad Thompson to serve as Fire Chief/Administrator, effective August 16, 2021. Chief Thompson's Change of Command Ceremony was held Thursday, August 5 in conjunction with Chief Swearingen's retirement celebration.
"Deputy Chief Thompson will make an exceptional Chief for VRFA," VRFA Board of Governance Vice Chair and Auburn Mayor Nancy Backus said. "I have had the opportunity to see him as VRFA's representative on our Blue Ribbon Committee for Healthy Auburn, and his care and compassion for our community is an inspiration."
Thompson has crafted his own style when it comes to successful leadership. He believes it's crucial to keep your word, communicate well, and be honest. "If you're not honest with people there's no trust. When people say they're losing faith in leadership, they say they're losing trust," Thompson said.
Swearingen has no doubt in Thompson's ability to lead the agency. "Brad struck me as a leader when I first met him almost ten years ago. He prefers to listen than to be the first to speak, and he has compassion and a sense of service that he seems to have inherited," Swearingen said. "Brad has spent the [his career] to this point learning the ins and outs of the VRFA. He has my full confidence, but more importantly, the confidence of the VRFA and the Board of Governance. I see great things in the future for the VRFA under Brad."
"The residents of Algona are excited that Deputy Chief Brad Thompson is the next chief of the Valley Regional Fire Authority. He brings an understanding of the culture and community that will be invaluable in the service of our city," Board of Governance Chair and Mayor of Algona Dave Hill said, echoing Swearingen's sentiments.
Board of Governance member and City of Pacific Mayor Leanne Guier also shared her confidence in the board's choice in Thompson. "Deputy Chief Thompson has demonstrated great leadership in his role as Deputy Chief, and he the right choice as Chief/Administrator of VRFA to serve the communities of Algona, Auburn, and Pacific. I look forward to working with him in his new role."
Looking to VRFA's Future With Confidence
Now responsible for over 100 employees, Thompson is looking towards the future of VRFA in its growing communities. A part of that is making sure the department follows its five-year strategic plan that was formalized two years ago. The plan was created with community input, and it's Thompson's job to keep things on track. 
The strategic plan has five initiatives consisting of bettering communication, mentorship, staffing, fulfilling a capitol facilities agenda, and receiving national accreditation. Currently, only 12% of departments are accredited, according to the Center for Public Safety and Excellence. 
Thompson's department has filled out hundreds of pages of paperwork to send in, and now they're waiting until September to find out if they'll receive accreditation.  "We feel really good about our progress. And regardless if we meet our bar, we're better than we were when we started this," he said. 
Much of Thompson's confidence comes from those he works alongside. "We have a fantastic team, we really do. The people that have held these positions before me have really assembled a [great] team."
"I recently watched him in action in the waning activity of the downtown fire," Backus said. "He walked around to each firefighter to check in with them, hear their observations, and to thank them for their service. He has come up through the ranks and has earned the respect of not just Valley Professional Firefighters, but of firefighters throughout our region. We are very fortunate to have Chief Thompson serving the Algona-Auburn-Pacific community."
Chief Thompson graduated from Gonzaga University with a bachelor's degree in Business Administration. He is a member of Auburn's Blue Ribbon Committee, working to make Auburn the healthiest city in Washington. Thompson has three adult sons and lives with his wife in Tacoma.
Congratulations, Chief Thompson!