Caregivers from the MultiCare Auburn Medical Center will be holding an Informational Picket for Quality Care on Thursday, February 21st. The picket and community rally will be held outside of the MultiCare Auburn Medical Center Emergency Room. The picket and rally are a means for MultiCare Auburn Medical Center caregivers to share their concerns with patients and community members.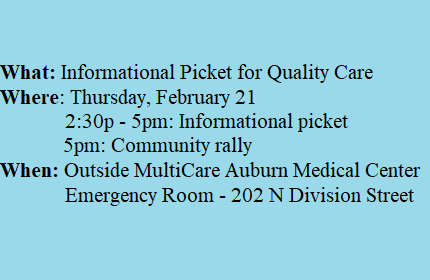 "The goal of the picket is not only to educate the community, but it's for the community to have a voice. Many in [the Auburn community] do not have the choice where they go for healthcare. They go to their local hospital. This [picket and rally] is an opportunity for the community to advocate for good care for themselves and their families while they are well and not in the vulnerable position of being a patient in the hospital. If they advocate for us, we can better advocate for them when they are not able to for themselves," said Caroline Bellinger a licensed practical nurse at MultiCare Auburn.
MultiCare is aware of the picket and recognized that informational pickets could be a tool utilized during negotiations. "[Unions represent thousands of MultiCare employees,] and we strive to have a strong and collaborative relationship with those groups who share our goals of taking care of the patients we serve. The happiness and well-being of our MultiCare team members are always top priorities, and we work hard to listen to and collaborate with our employees," said MultiCare Media Relations Manager, Mark Swart.
Prolonged Contract Negotiations
Caregivers at MultiCare Auburn Medical Center have been working without a contract since September 30, 2018. Contract negotiations between MultiCare and SEIU Healthcare 1199NW began in June 2018. SEIU Healthcare 1199NW is the largest union of nurses and healthcare workers in Washington State. The union represents healthcare workers from MultiCare Auburn Medical Center.
"The bargaining team consists of two people from SEIU Healthcare 1199NW, and then a team of union members from each of the departments represented in the contract. SEIU Healthcare 1199NW is a democratic organization. Our members were surveyed about what was important to them, and the results were incorporated into this year's contract proposal. We benefit from the experience and guidance of the union negotiating team through this process, but this is a process with active participation from actual workers in the hospital. Each of us brings member stories to the table to support the proposals to the contract," explained Bellinger.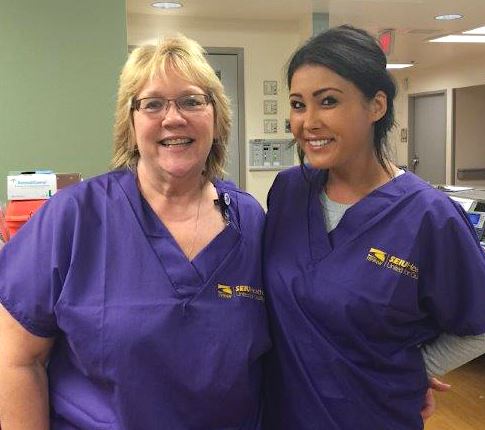 Bellinger shared that progress has been made in negotiations. "I will say that we do have tentative agreements on [several items]. One issue ]for example, has to do with how long disciplinary actions are retained in an employee's file. Another is getting some language to structure staffing concerns in Labor-Management Committee meetings. It's not all about money," said Bellinger.
"MultiCare has been working collaboratively and constructively with [SEIU Healthcare 1199NW] on a new contract that will affect about 300 employees at MultiCare Auburn Medical Center. Those jobs include food service workers, lab assistants, medical records coders, technicians and licensed practical nurses. We have made great progress toward an agreement that positions both our employees and our hospital for the future. There are a few areas including pay that we are still discussing," said Swart.
"We are committed to providing all employees with competitive wages and benefits," continued Swart, "and MultiCare's current proposals would do just that. We wanted to resolve those issues in the fall when the contract expired. We remain hopeful that we can reach an agreement at the next bargaining session."
A Potential To Strike?
In December 2018 Behavioral Healthcare workers went on strike in California during contract negotiations with Kaiser. When asked if the concerns of MultiCare Auburn caregivers could lead to a strike Bellinger denounced the thought. "I would like to believe that we are not headed towards a strike! We have been bargaining in good faith, with well-researched proposals regarding wages, and fair treatment of all."
"Our issue isn't primarily about understaffing. [We] do not have the wages to support a consistent workforce for our patients," Bellinger continued. "Our starting wages are lower than other hospitals in the South King County, so we have recruitment issues for some positions. Additionally, we find that some people come to Auburn, work for [a while ], and then we lose them to other hospitals. This creates a temporary staffing shortage. The effect on existing staff is the open positions need to be filled by existing workers. The [prolonged hiring and onboarding proceess] means people are being asked to work extra shifts or stay over. Worker burnout is real at Auburn due to these conditions. [Therefore] we are fighting for regionally comparable wages. We want to stabilize the workforce at Auburn. We feel it is in the best interest of the hospital."
Here is a comparison of MultiCare Auburn Medical Center, Valley Medical Center, Highline Medical Center and Swedish Medical Center 1 and 2. These wage schedules have all been pulled from contracts available on the SEIU HEalthcare 1199 NW 's website.
"With regard to money, we have done quite a bit of research related to how far behind [MultiCare] Auburn Medical Center is in wages compared to other hospitals in South King County. The wage information we've gathered doesn't include hospitals in Seattle, but for the most part, are compared to South King County hospitals (Highline and Valley). Even if [MultiCare] were to bring us up to where those hospitals are now, those hospitals are starting contract negotiations for their new contracts for the next three years, which means Auburn will still be behind those hospitals once our contract is settled," said Bellinger.
High Turn-Over Causing Staffing Stress
Swart provided data for 2018 indicating a turnover rate of 13.8% at MultiCare Auburn Medical Center. SEIU Healthcare 1199NW's research department states that "from December 2015 to June 2018, 195 out of 360 of our members left Auburn Medical Center, which is a 54% turnover rate."
Per Nursing Solutions Inc, "Hospital turnover is on the rise and executives need to be concerned since this is a leading indicator of future financial pressure, and patient & employee satisfaction. 2017 recorded the highest hospital turnover since launching this study almost a decade ago. The national average "TOTAL" hospital turnover rate is 18.2%, 2.0% greater than 2016, with the median and mode recorded at 17.8% and 18.0%, respectively. Presently, hospital turnover ranges from 4.5% to 30.7%. Since 2013, the average hospital turned over 85.2% of its workforce."
Paging Doctor McUnion?
MultiCare Auburn's doctors and surgeons are not a part of SEIU Healthcare 1199NW, so are not a part of these contract negotiations. However, "the doctors at Auburn have elected to unionize. To my knowledge, they are in negotiations with [MultiCare] and are in year two of negotiating their first contract. It's my understanding that progress is very slow. The doctors I've spoken to are aware of our picket, and my understanding is they will be joining us as their time allows. They are supportive of our efforts, and we are supportive of theirs," explained Bellinger.
Numbers and negotiations aside, the most important thing for the community to know is "we at [MultiCare Auburn Medical Center] have our patients' best interest at heart," said Bellinger.