Every October, the National Fire Protection Association® (NFPA®) promotes a theme for Fire Prevention Week, this year October 3-9. The message for 2021 is "Learn the Sounds of Fire Safety,TM" and it includes the important goal of educating everyone about the sounds of their smoke and carbon monoxide alarms.
When an alarm makes noise—a beeping sound or a chirping sound—it is doing it for a reason. Make sure everyone in the home understands the sounds of the alarms and knows how to respond. To learn the sounds of your specific smoke and carbon monoxide alarms, check the manufacturer's instructions that came in the box, or search the brand and model online.
"Knowing when you need to escape versus when you need to change the battery is an important distinction that can save you, your home, and your family," said Valley Regional Fire Authority Deputy Chief Dave Larberg.
Fire Prevention Week: The Sounds of Fire Safety
While some products may have slight differences, there are a few things everyone should know about the sounds smoke and CO alarms make: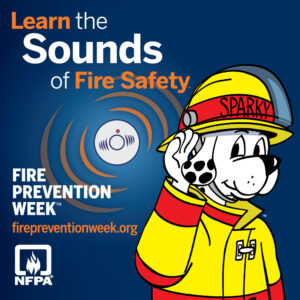 A continuous set of three loud beeps—beep, beep, beep—means smoke or fire. Get out, call 9-1-1, and stay out.
A single chirp every 30 or 60 seconds means the battery is low and must be changed.
All smoke alarms must be replaced after 10 years.
Chirping that continues after the battery has been replaced means the alarm is at the end of its life and the unit must be replaced.
Make sure your smoke and CO alarms meet the needs of all your family members, including those with sensory or physical disabilities. Smoke alarms and alert devices are available for people who are deaf or hard of hearing. These devices include strobe lights that flash to alert people when the smoke alarm sounds. Pillow or bed shakers designed to work with your smoke alarm also can be purchased and installed.
If your alarm is chirping due to a low battery or some other issue, it is extremely important to return the unit to full working order as soon as possible. Hearing a continuous chirp can lead some people to hesitate or ignore the warning sounds of an alarm when there is an actual emergency. Additionally, if the unit is faulty, it needs to be replaced as soon as possible.
The Valley Regional Fire Authority can offer free replacement nine-volt batteries for smoke alarms, and in some cases, free alarms. The batteries are supplied through a grant from the Energizer Company and the alarms from World Vision and Costco Corporation.
To learn more about smoke alarms and fire prevention, please visit www.vrfa.org.
---
The above is a press release from the Valley Regional Fire Department.