At approximately 1:30pm on Wednesday, March 14, 2018, Kent Police Department worked in conjunction with Auburn Police Department and the Auburn School District to arrest a 19-year-old Auburn High School senior. Darion Porter was wanted on suspicion of involvement in a drive-by shooting in Kent. When searching Porter's backpack after his arrest, a Sig Sauer .45 caliber handgun was recovered.
Drive-By Shooting in a Residental Kent Neighborhood
According to the certification for probable cause, on March 1, 2018, at roughly 8:30pm, witnesses saw a green Cadillac attempt to block a silver sedan from exiting a Cul-de-Sac onto 132cnd Ave SE. When the silver vehicle maneuvered around the Cadillac and drove past, several gunshots were heard. Officers dispatched to the scene recovered six .45 caliber bullet casings.
Five days later on March 6th, Jesus Juarez-Delacruz filed a report with the Kent Police Department indicating the silver vehicle was his, and that his vehicle had multiple bullet holes. In his recorded statement Juarez-Delacruz outlined the circumstances as he knew them that lead up to the March 1st shooting. According to Juarez-Delacruz, the incident occurred "over a girl."
Recounting the events during his statement, Juarez-Delacruz shared that he had been seeing a girl (a minor who will be referred to as "K") for several months. The relationship was not serious. Juarez-Delacruz was also in a relationship with another woman, Amy Ortiz. On March 1st, Ortiz alerted Juarez-Delacruz that "K" was "setting him up" to "shoot him." Ortiz obtained this information through Facebook messenger conversations with "K," of which screenshots have been turned over to KPD.
On the evening of March 1st, Juarez-Delacruz was not home when "K" arrived at his home. His father contacted him, recalling him home to speak to "K." Knowing of the "set up" from Ortiz, Juarez-Delacruz had a friend follow himself and "K" in his car to the nearby park she wished to go to, to talk. Upon arriving at Wilson Playfields, Juarez-Delacruz noted a green Cadillac parked near the entrance of the park. When "K" indicated she wished to walk over to the Cadillac, Juarez-Delacruz got into his car that his friend was driving and they left.
It was from the park that the green Cadillac followed Juarez-Delacruz and the shooting incident occurred. Neither Juarez-Delacruz nor his friend was injured.
Shooter Identified
Porter's identity was provided by "K" when Juarez-Delacruz's Uncle contacted her, demanding the shooter's information. According to the probable cause report, "K" eventually provided Porter's name, as well as his Facebook profile information.
When speaking to police, "K" indicated that Porter was present when she had a phone conversation with Juarez-Delacruz regarding the potential of her being pregnant, and him being the father. According to "K," Porter spoke to her about Juarez-Delacruz "[needing] to take responsibility."
In a subsequent conversation with Porter regarding her relationship with Juarez-Delacruz, "K" told Porter that Juarez-Delacruz hit her, and Porter told "K" that due to the age difference their sexual relations were rape. According to "K"'s statement to police, it was during this conversation that Porter offered to "beat up" Juarez-Delacruz. In the car during this conversation was another
male individual "K" knew, referred to as "Ralph." She did not know the third person present, the driver. "K" confirmed the car she was in was a green Cadillac.
"K" indicated to police that she was unaware that Porter had a gun until they were in the car on the way to Juarez-Delacruz's home. She conveyed that upon seeing the gun she expressed her concern to Porter and to prove he would not use it, Porter emptied the bullets from the gun into a bag before putting the gun away.
Both "K" and Juarez-Delacruz's retelling of the night of March 1st are in line with each other. "K"'s perspective of being in the front passenger seat of the Cadillac. She recounted to police seeing Porter reach his arm out of the back window and fire the gun several times. According to "K", after leaving the scene, the driver told her not to tell anyone what had happened. When she turned to yell at Porter, he placed the gun to her forehead and told her not to say anything. "K" later noted a round mark of the gun barrel with gunpowder residue on her forehead.
Porter Apprehended at Auburn High School
KPD confirmed Porter's identity through school and Department of Licensing photographs. Working in close coordination with ASD and APD, KPD responded to Auburn High School to arrest Porter. He briefly struggled with the arresting officers before being placed in handcuffs. Searching the backpack Porter had on at the time, KPD recovered a Sig Sauer .45 caliber handgun, wrapped in a yellow T-shirt. The gun's magazine was loaded with multiple bullets. KPD ran a Washington Crime Information Center check and discovered the recovered firearm was stolen out of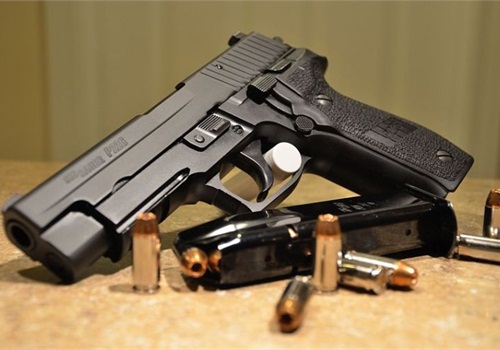 King County.
Acknowledging his rights, Porter agreed to speak with Detectives. He confirmed details as outlined by both "K" and Juarez-Delacruz. He indicated that "K" requested he "beat up" Juarez-Delacruz and that while at the park he challenged Juarez-Delacruz to fight before Juarez-Delacruz got into his car and left the park.
During his interview, Porter stated that Juarez-Delacruz stuck his arm out of his vehicle and aimed a firearm at the Cadillac he was in. It was at that time he pointed a gun at Juarez-Delacruz's
"During the fight, someone dropped the gun, so [I] picked it up and ran."
vehicle and fired the weapon multiple times. Porter confirmed that the gun recovered in his backpack was the same gun used in the drive-by shooting. Testing on the gun to confirm this will take some time.
When asked how he got the weapon, Porter admitted that he obtained it two weeks prior when he and some friends were involved in a fight."During the fight, someone dropped the gun, so [I] picked it up and ran."
Porter was booked into the Regional Justice Center on March 14th. He has been charged with Drive-by Shooting and is in custody, with bail set at $200,000.00.
Darion Porter Charging Documents, including probable cause determination