A new Miss Auburn was crowned on January 19, 2019.  Hearing her number called, Amanda Enz, 20, was shocked and excited all at once.   Having served as 2013's Miss Auburn Outstanding Teen, Enz understands both the excitement and the importance of her new role.  In addition to her duties as Miss Auburn, Enz is also a full-time student at Pacific Lutheran University.
Being Crowned 2019's Miss Auburn
"Being the newest Miss Auburn is truly a dream come true. I have always stuck with the Miss Auburn program specifically because I really appreciate the sense of community built, the people I am always blessed to meet, as well as the scholarship money Miss Auburn provides. There is no local [program] in the state of Washington that parallels to that of Miss Auburn.  [It means so much to me to have] the opportunity to represent my home town at the state level."
Enz first joined the Miss Auburn and Miss Auburn's Outstanding Teen Scholarship Program a decade ago.  For two years she was a Little Sister.  "In 2013 I ran and won Miss Auburn's Outstanding Teen," said Enz. "I ran one more time as a teen but got first runner-up to Keely Franchini. My first year in the "Miss" program was last year, 2018. I got first runner-up to Whitney Van Vleet."
On March 4th, Mayor Nancy Backus made a proclamation that Enz and 2019's Miss Auburn's Outstanding Teen Austin Douglas are official Goodwill Ambassadors for the City of Auburn.  We chatted with Enz to get to know one of Auburn's newest Goodwill Ambassadors and what she hopes for in her year as Miss Auburn.
Auburn Examiner: Why did you choose to participate in the Miss Auburn and Miss Auburn Outstanding Teen scholarship program?
Amanda Enz: This program is one that has been near and dear to my heart since I was little. Having that mentor as a little girl meant so much to me, and I knew I wanted to be Miss Auburn one day. I started running in the teen program because it was both a way for me to perform my talent— dance, as well as gain some experience in things I knew little about, such as interview skills, or walking in heels. Since my first time running in 2013 I have loved the skills, sisters, and scholarships I have gained each year from running— win or lose.
Auburn Examiner: What has been your most memorable moment in the program, outside of winning?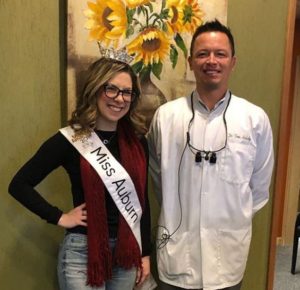 Amanda Enz: The most memorable moment for me was actually the times that I didn't win. I felt sad and maybe rejected at the time, but those were the times that I learned the most. I learned, or more reaffirmed, the fact that God really does have a plan for me. When I didn't win Miss Auburn's Outstanding Teen in 2015, I ran [independently] at the state level and got second runner-up! When I got first runner-up to Whitney last year, I started two new jobs at and near PLU, as well as successfully completed my first year of college. Winning MAOTeen and Miss Auburn are huge honors to me, and something that I will treasure forever. [However], it was those times that I didn't win that I will always remember.
Auburn Examiner: You've been a Little Sister, Miss Auburn Outstanding Teen and now Miss Auburn.  You're the first ever to do that.  Was that your plan all along, or did it just happen that way?
Amanda Enz: [Being a little sister was] an amazing experience. It was not at all my plan to be all three of those things. I just kept setting goals for myself and doing all I had to achieve those goals. I learned about the teen program through my dance coach, who encouraged me to try it out. When I decided I wanted to, I put my heart and soul into learning how to be a great titleholder. After I aged out of the teen program, I decided I wanted to take a break from pageants. I didn't compete at all my senior year of high school. Once I decided I wanted to be Miss Auburn, I again worked hard to accomplish that goal. I never sat and thought that I wanted to do all of those things, it is just kind of where my life has led me. And I couldn't be more thankful for the opportunities each experience has provided me with!
Auburn Examiner:  Describe how you felt leading up to being announced Miss Auburn 2019?
Amanda Enz: This year I approached the competition a little differently. I have learned over the years that there is nothing I can do besides my very best to decide who is and isn't Miss Auburn. I felt prepared for all stages of [the] competition and felt confident in the way I had performed that day from my interview to my dance. In the moments leading up to the crowning, I was, of course, anxious, nervous, and excited, but I was also slightly calm. I knew that I had done all I could possibly do, and if it weren't enough to be Miss Auburn, then I would try again next year. I felt calm and content in my performance and knew whatever happened was meant to be. When I heard Nancy announce my number I was shocked and so excited!
Auburn Examiner:  How long have you been training in dance?
Amanda Enz:  I have been taking dance classes since the age of three! That is 17 years! I love to tell my students that I have been dancing longer than they have been alive (ha!).
Auburn Examiner: What styles of dance are you trained in?
Amanda Enz: I am trained in ballet, jazz, contemporary, tap, and hip hop. I don't consistently train in all of those classes anymore, but I am trained in all of those. Now I take and teach classes in jazz, contemporary, and ballet.
Auburn Examiner:  In your routine, you had an impressive pirouette segment.  Were you nervous about falling out of your turns, and how did it feel to nail it?
Amanda Enz:  Oh my gosh, I was so nervous for those turns! At my prime as a competition dancer a few years ago I would not have been nearly as nervous [about completing] all those turns. But it has been a while since I have completed that many turns in one sequence, and although I knew I had it in me, I was so nervous. There were times in my practices where I seriously considered taking the turns out of the dance all together because I was so nervous for them. But when I nailed those turns on stage, I could not contain my excitement! It was so relieving. Completing a difficult task like that is so rewarding when it goes well. I couldn't be happier with how my dance went.
Auburn Examiner:  Your social impact statement is to stress less and reduce anxiety.  Tell me about this and what that means to you.
Amanda Enz:  I chose this social impact initiative in high school for a DECA project initially. I noticed in my junior year that I was stressed about my AP classes, the 20+ hours of dance a week, my job, and trying to find a college [to attend]. Let alone spending time with friends and family. More importantly, I realized I had no idea how to manage that stress and anxiety I was beginning to feel. I often felt overwhelmed and exhausted from overexerting myself, and I knew a lot of my friends were in the same boat. I decided I wanted to learn [methods] to deal with stress in healthy ways for myself and for my peers. I loved all the findings and wanted to continue to share it with young adults. I think it is so important for young adults to learn how to cope with stress and or anxiety before they get to college or adulthood, [when they likely] don't have time to even worry about their stress.
Auburn Examiner:  Why is this social impact statement important to you?
Amanda Enz:   It is important to me, especially in the world of technology that this new generation lives in, that young adults understand their emotions and stress in order to deal with those things in a way that promotes good health and happiness. I know that it made a difference in my own life, and I hope it can do the same for others.
Auburn Examiner:  How will you use your year as Miss Auburn to raise awareness for reducing anxiety and stress?
Amanda Enz:  I plan to utilize the local media sources, [like] speaking with the Auburn Examiner about my platform. [I also plan to] maintain the project in the DECA club of my Alma Mater. The AMHS DECA program still uses my project to help students in the community to reduce stress. They host a "Stress Less Week" in the school and have a "Stress Less Week" proclaimed by the Mayor of Auburn for the city. I advise these students on how to reach their community while learning more about their own mental health.
Auburn Examiner:  Looking to this next year as Miss Auburn, what are you most excited about?
Amanda Enz:  I love my city, and [am so excited to serve Auburn as] a part of all of the community events!
Auburn Examiner:  What are you most nervous about for this coming year as Miss Auburn?
Amanda Enz:   I am nervous for Miss Washington. I am so excited for state, but also nervous. I am relatively young compared to a lot of the other contestants who have been in the "Miss" program longer than I have. I also feel like I somehow have this pressure to do well. I don't know if that comes from my friends and family or from myself, but it is something that makes me feel a little nervous and excited.
Auburn Examiner:  Is there anything specific you are focusing on for the Miss Washington competition?
Amanda Enz:   The thing that I really need to work on for state is my on-stage interview. I will, of course, continue to practice my talent and interview skills, but the on-stage question has always been the phase that tends to stump me a little bit, so  will definitely be working on that.

Miss Auburn Amanda Enz with her Little Sisters | Photo Credit Dave Barksdale
Auburn Examiner:  Tell me about your Little Sisters.
Amanda Enz:  My little sisters— Hailey and Maddie are THE SWEETEST! I love those girls. I have known Hailey for a few years, as I was one of her dance teachers at Auburn Dance Academy. Maddie was paired with me for the year, but I still have loved getting to know her! I am so excited to take them to events such as parades and such, and really show them what Miss Auburn being is all about. It is about giving back to the community, more so than wearing a sparkly crown and dresses.
Auburn Examiner:  What do you hope to gain from your partnership with Austin this year as the two 2019 Miss Auburn program representatives?
Amanda Enz: I hope to gain another sister in my partnership with Austin! Another thing that I have always loved about Miss Auburn is the sisterhoods that will last a lifetime. I can't wait to spend more time with her and grow in our bond together!

Miss Auburn Amanda Enz and Miss Auburn Outstanding Teen Austin Douglas | Courtesy Photo, Enz
Auburn Examiner:  What are you most excited to experience with Austin?
Amanda Enz:   I am most excited to be like a big sister to her. My Miss, Victoria Knight, will forever be my "big sister." She is one of my mentors and best friends to this day, and I hope I can be the same for Austin.
Tell us about yourself:
Auburn Examiner:  Where did you grow up?
Amanda Enz:  I grew up on G street right across from Auburn High School. When I was 10, my family moved to Lea Hill, and I went to Rainier and Auburn Mountainview High School.
Auburn Examiner:  Do you have any siblings?
Amanda Enz:  I have a little sister, Elizabeth, who was also Miss Auburn's Outstanding Teen!
Auburn Examiner: Who's your go-to band or artist when you can't decide on something to listen to?
Amanda Enz: I have the most random selection of music on my phone there isn't one artist I always listen to. I will say, I am a huge Beyoncé fan, so I guess I'll stick with that.
Auburn Examiner:  How do you take your coffee?
Amanda Enz:  I drink all sorts of different caffeinated drinks! At home, I drink coffee with creamer. At PLU I love white chocolate americanos, and every once in a while I love flavored Red Bulls from small coffee shops around the area.
Auburn Examiner: What TV show or movie do you refuse to watch?
Amanda Enz: I refuse to watch horror movies. I do not like to be scared. At all.
Auburn Examiner: When people come to you for help, what do they usually want help with?
Amanda Enz: Overall happiness, I would say. When my friends are stressed or sad, they come to me to cheer them up. I have tools to help deal with stress, and I just love to make my friends happier in any way I can. I am naturally a cheerful person, and I like to think I have a positive vibe that rubs off on my friends.
Auburn Examiner: What is a habit other people have that you hate?
Amanda Enz:  I don't think there is anything that I hate, but I do dislike people who don't pick up after themselves or aren't clean.
Auburn Examiner: If you could have dinner with anyone, dead or alive, who would it be and why?
Amanda Enz:  I would have dinner with Audrey Hepburn! I have always loved her work as a dancer and actress, and I would love to meet her and talk to her about her life.
Auburn Examiner: What game or movie universe would you most like to live in?
Amanda Enz: I would love to live at Hogwarts with Harry, Ron, and Hermione. I love the Harry Potter series— I have read the books three times.
You can follow Miss Auburn on Instagram (@missauburnwa) to see what she's up to and get stress-less tips.  Like and follow the Miss Auburn and Miss Auburn Outstanding Teen Scholarship Program's Facebook page for updates on where Miss Auburn and Miss Auburn's Outstanding Teen will be and how their progress in the Miss Washington competitions go!