The YMCA of Greater Seattle will honor the legacy of the late Dick Brugger by dedicating a building at the Y Social Impact Center in his honor.
Join Auburn Mayor Nancy Backus and Y President and CEO Loria Yeadon, with Brugger's family, on June 4th to celebrate Brugger and the youth he helped. The event will be held at 932 Auburn Way S., Auburn, WA 98002, from 11 a.m. to 12:30 p.m. The dedication will also have Dick's Burgers for Dick Brugger!
Brugger was the long-time Executive Director of Auburn Youth Resources, the City of Auburn's first poet laureate, a proud member of the Kiwanis Club of Auburn, and one of the area's most beloved community members. For generations of at-risk youth in the region, Brugger was an advocate, friend, and lifeline to a better future in Auburn and South King County.
The YMCA believes in the potential of all children and young adults, and each day we work to help youth find that potential within themselves. Brugger practiced these principles and fought for youth people's future during his lifetime.
Click Here to learn more about Dick Brugger, Auburn's first Poet Laureate, from Auburn's current Poet Laureate, James Rodgers: May Poet Spotlight: Dick Brugger
Continuing to be an Anchor
The Dick Brugger Building will be the anchor for the YMCA of Greater Seattle Social Impact Center's Auburn campus. Some features of the campus include a youth shelter, a young adult shelter, supportive housing, behavioral health counseling, and medical facilities. According to Michael Jackson, Director of Philanthropy, the Social Impact Center served more than 1,200 young people in the Auburn Valley last year.
Among the more than 1,200 young people served, more than 800 behavioral health clients. Over 250 young people were sheltered or housed at Auburn's Social Impact Center also saw more than 250 young people sheltered. Campus services and staff served 76 foster youth, supported 64 youth to reduce violence, and more than 50 received support with education and employment services.
You Might Also Like: Introducing the Y Social Impact Center
Auburn Youth Resources
In 1973 a concerned group of parents, educators, and local civic leaders joined together to address a growing problem of drug abuse among South King County youth. Auburn Youth Resources was established. In 1976, Brugger was named the agency's new executive director. A self-proclaimed ex-hippie priest, Brugger was tasked with youth outreach and addressing substance abuse, but he didn't stop there, seeing the whole person beyond a condition or ailment.
In 1980, Brugger met with community leaders in Enumclaw to develop a drop-in center for youth, which became Enumclaw Youth and Family Services (EYFS). In the mid 1980's, as the Green River Killer threatened our youth, Brugger developed the first emergency shelter in South King County. In the 1990s, Brugger was there again to establish the first street outreach services for homeless youth.
There is a story that Brugger's wife Lela has shared over the years. She had taken him to a doctor's appointment and a young person working there recognized Mr. Brugger. That young person shared how Brugger's efforts had changed the course of his life. This is the legacy of someone "doing" good things for the community.
This dedication is in recognition of Brugger, and also a call to follow his example and champion youth in our communities.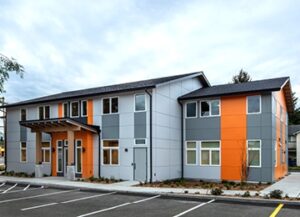 In 2017, after having expanded to 20 cities in South King County, Auburn Youth Resources changed its name to Nexus Youth and Families. Last year, Nexus Youth and Families merged with the Y Social Impact Center to jointly serve by utilizing cutting-edge, proven-practice services to serve the children, youth, and families in the region.
The above information was provided by the YMCA of Greater Seattle.