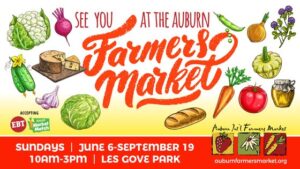 The 13th annual America's Farmers Market Celebration showcases the essential markets across the nation making a difference for farmers, ranchers, and communities. The Auburn Farmers Market is currently in first place in Washington State and vying for national recognition, a $2,500 grand prize, and bragging rights.
Shoppers and supporters can vote for their favorite market by visiting markets.farmland.org(enter zip code 98002 to find the Auburn Farmers Market). In addition to first place in Washington, the Auburn Farmers Market is currently sixth in the Pacific region and 47th nationwide.
In addition to recognizing the top markets in each region of America, the Celebration will crown an overall "People's Choice" winner as the top-endorsed market in the country.
Now in the second summer of the coronavirus pandemic, the role of farmers markets as both a vital venue for farmers to sell their goods and shoppers to access local, healthy food is being recognized like never before. If the last year has taught us anything, it is that farmers markets are essential businesses that provide a vital service and should be celebrated.
So far this year, the average customer count at the market is 2,700 each Sunday. Customers qualifying for EBT have spent $8,800 on fresh food and vegetables at the market this season, with a SNAP market match of $7,500 thus far. Vendor sales to date $228,000! Food donated to the Auburn Food Bank to date – 1,600 lbs.
The market is breaking season records almost every week.
Just a little over a month left in the Market season – make sure to visit the Auburn Farmers Market on Sundays through September 19 from 10am-3pm at Les Gove Park! Full details at auburnfarmersmarket.org
---
The above is an announcement from the City of Auburn Parks Department, Auburn Farmers Market. The Auburn Examiner has not confirmed all information contained in this announcement.