Rep. Drew Stokesbary, (R-Auburn, 31st LD), has introduced a series of bills aimed at increasing transparency, accountability and affordability at the state's higher education institutions.
House Bill 2574 would require Washington's higher education institutions to reduce their administrative positions to 2008 levels. Since 1994, higher education employment has grown at twice the rate of other government employment. And although the faculty-to-student ratio at state colleges has remained constant during this time period, the administrator-to-student ratio has grown by 150 percent.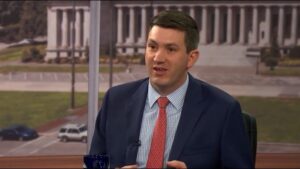 "The growth we've seen in administrative positions over the last 25 years has made college less affordable and less cost-effective," said Stokesbary. "While college students have seen their tuition and debt soar, college administrators have seen their salaries and benefits soar. House Bill 2574 would save tens of millions of dollars that could be used for financial aid, tuition relief, or more undergraduate slots. This would be far more impactful than continually adding new highly-paid administrator positions."
House Bill 2274 would require the University of Washington (UW) to invest its endowment with the Washington State Investment Board (WSIB), as opposed to relying on its own investment management company. According to independent legislative analysis, the UW currently spends about $33 million annually managing its endowment, which is nearly $32 million more than it would cost the WSIB to manage the same portfolio.
"Unfortunately, the University of Washington is wasting tens of millions of dollars every year by insisting upon duplicating efforts and managing its endowment," Stokesbary added. "Even worse, the performance of its own investment managers has lagged that of the State Investment Board by a wide margin. Between the lower fees and higher returns that could be realized under this bill, the University of Washington could grow its endowment by an additional $60 million per year. Those millions could then be spent increasing financial aid or providing tuition relief."
House Bill 2283 would require both the UW and Washington State University to report to the Legislature various data regarding students admitted outside of the regular admissions process. The report would include data on the institutions' use of differential tuition waivers, which allow in-state tuition to be offered to out-of-state students who are relatives of university employees. The bill would also mandate universities utilize a three-person panel—featuring at least two faculty members—to review and approve special admissions students.
"Our flagship universities need to be transparent and accountable to the public so our state avoids becoming home to the next college admissions scandal," said Stokesbary. "Providing transparency and accountability in the use of special admissions will ensure all applicants are competing on an equal playing field for admission to these universities, regardless of their family wealth or connections."
All three of Stokesbary's bills received a public hearing in the House College and Workforce Development Committee, with House Bill 2283 advancing to the House Rules Committee earlier this week.
---
The above is a press release from the office of Rep. Drew Stokesbary (R-Auburn, 31st-LD). The Auburn Examiner has not independently verified its contents and encourages our readers to personally verify any information they find may be overly biased or questionable. The publication of this press release does not indicate an endorsement of its contents.