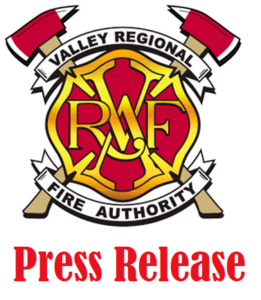 The investigation of the Heritage Building fire at 134 East Main Street in Auburn on December 26, 2017, has determined the cause to be accidental in nature, originating in or around a clothes dryer in the common laundry room.
Due to the high dollar loss caused by this fire, the investigation involved twelve different participants. Representatives from the insurance industry, appliance manufacturers, electrical engineers, forensic engineers and the Valley Regional Fire Authority (VRFA) worked over an eight‐month period to determine what led to the fire.
VRFA crews responded to a report of smoke and flames in the laundry room of the Heritage Building on Tuesday, December 26 at 2:53 p.m. First arriving fire crews saw smoke coming from the roof and evacuated the building. Firefighters assisted one occupant who was unable to self‐evacuate. All other residents were able to escape on their own. After searching the building fire crews were forced to back out due to heavy fire in the attic and instability of the roof structure. A third alarm was called to bring in additional personnel to keep the fire from spreading to nearby structures. After several hours, firefighters were able to bring the fire under control.
One dog perished in the fire and numerous individuals were evaluated for smoke inhalation. Displaced residents were kept warm courtesy of a King County Metro bus until the Red Cross could set up a shelter for them at Cascade Middle School.
The VRFA was assisted by several agencies including, South King Fire & Rescue, King County Medic One, Puget Sound Fire Authority, Tukwila Fire, Renton Fire Authority, East Pierce Fire & Rescue, King County Fire District #20, Zone 3 Fire Rehab, Zone 3 Fire Explorers, Auburn Police Department, City of Auburn Streets Department, City of Auburn Water Department, City of Auburn Maintenance and Operations, Puget Sound Energy and the Red Cross. The Soup Ladies, McDonald's and Athens Pizza supplied food and beverages for first responders. A total of 33 fire apparatus and 82 fire personnel responded.
---
The above is a press release from the VRFA.  The Auburn Examiner has not independently verified its contents.