Four Auburn Police Officers have been recognized with the department's Life-Saving Award. Three officers received the award in October. The fourth officer was presented their award this week.
"I am very proud of these officers. Life is precious and something we should all place a higher value on. I know without a doubt that our officers come to work every day with the shared goal of positively impacting people's lives while making Auburn a safe place to live, work, and play," said Auburn Police Chief Dan O'Neil. "Recently, my family was able to experience the professionalism of Auburn PD first hand when they responded with VRFA to assist my mother in law who was in cardiac arrest. The opportunity to provide a community member with extended life is invaluable."
October Awards
On the morning of September 16 Officers Fernando Cordova, Ryan Bemis, and Matt McNabb of the Auburn Police Department responded to a call for a patient experiencing a medical emergency near the Auburn/Black Diamond Park and Ride. The patient had suffered a cardiac arrest and their husband was already performing CPR.
When the three officers arrived they took over compressions. Utilizing a department-issued automated external defibrillator (AED) it was determined the patient did not require a shock.  A dose of Narcan was administered after it was determined the patient may be experiencing an overdose. The officers continued providing care until Valley Regional Fire Authority crews arrived.
The patient was transported to MultiCare Auburn Medical Center after regaining consciousness. The patient was treated and successfully discharged.
"I appreciate your crew's dedication to providing lifesaving care," said a King County Public Health – Seattle & King County doctor. "The involvement of law enforcement in resuscitation efforts increases the chance of survival for individuals and is an important piece of our EMS response to cardiac arrest in the community. As evidenced in this case, law enforcement action saves lives and improves the health of the community. The patient, her family, and I thank you for this important service."
Cordova, Bemis, and McNabb were all presented the APD Lifesaving Award on October 13 by Chief O'Neil.
November Award
Officer Nick King was presented the department's life-saving award on November 9 for his actions related to a July 27 call. The reporting party advised that an 18-year-old female was unresponsive, having possibly overdosed on narcotics.
King quickly assessed the patient upon arrival and began administering chest compression. While continuing compressions he gave her two doses of Narcan. King maintained chest compressions and medical care until medical personnel arrived.
"It is clear that without Officer King's early intervention of rescue breathing and medical therapy (Naloxone), the patient faced a significantly worse outcome or even death," states a King County Medic One representative. "Rather, due to Officer King's actions, the patient was discharged from Multicare Auburn Medical Center to return to their life."
Based on Officer King's actions that day, he was awarded the Auburn Police Department Life-Saving Medal.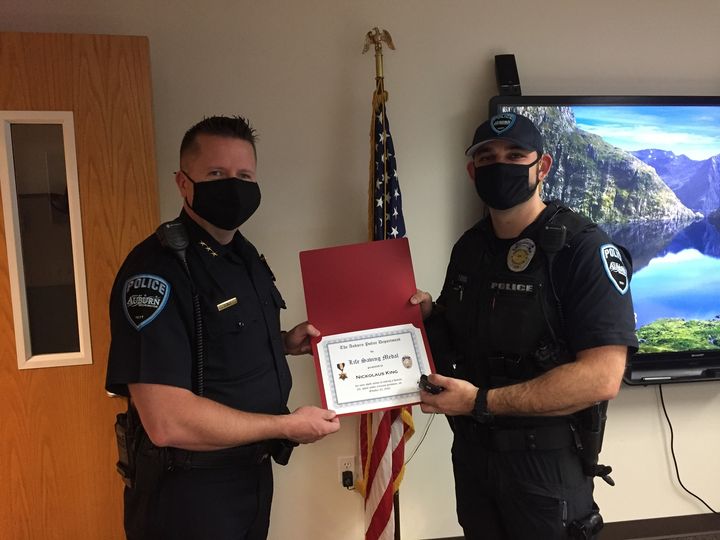 These four life-saving awards bring the total number awarded in 2020 to six awards for three incidents.





Subscribe to our FREE newsletter and never miss an Auburn Examiner article or update!
Subscribe to our FREE newsletter and never miss an Auburn Examiner article or update!