On July 30th in Tokyo, Japan, Olympic weightlifter and Auburn native Harrison Maurus (21) earned 4th place in the 81kg (178.6 lbs) weightlifting class.
The Group A weightlifting event aired early Saturday morning (Pacific Time), with Maurus being the only Team USA representative. Although Tokyo is Maurus' first Olympics, he has previously competed on the international stage. In his teenage years, Maurus became a Pan American Games Bronze medalist (2019) and set the Youth World Record. In total, he holds ten world records.
Harrison Maurus Competes on the Olympic Stage
Maurus began his event with a strong start, successfully lifting and holding his first two attempts — 150kg (330lb) and 153kg (337lb). Announcers noted Maurus' mental and physical tenacity, citing his "focus and determination as he [stood]" to lift his dumbbell.
Watch Harrison compete here: NBC Olympics
Although Maurus possessed an early advantage, he ended his event 1kg short of the bronze medal. He posted a snatch of 161kg (354lb) and a clean and jerk of 200kg (440lb) for a total of 361kg (796lb). Maurus' performance is the highest finish by a U.S. man since 1988. Team USA has not won any medal in Olympic Weightlifting since 1984.
Regardless of the outcome, the athlete expressed pride in his performance, calling his efforts "a personal best" post-event. "Being on the Olympic stage changed everything," Maurus said. "I felt great out there. It was probably one of my most consistent meets I've had, ever."
However, Maurus acknowledged that his road to Tokyo was aided by his support system: his coaches, teammates, and family members in Washington State. "It's been an honor to represent my country, and my home and my family and friends, so I cannot thank them enough," he said.
"We are amazed by our son's determination and strength," Maurus' mother Tracey said. "We are beyond proud of him. He set his Olympic goal a long time ago and he finally reached it. He is the highest placed male weightlifter for 33 years! 4th place at the Olympics is phenomenal."
After the Tokyo Olympics, Maurus plans to take a break from weightlifting and travel. He currently resides in Georgia, where he trains at Power & Grace Performance.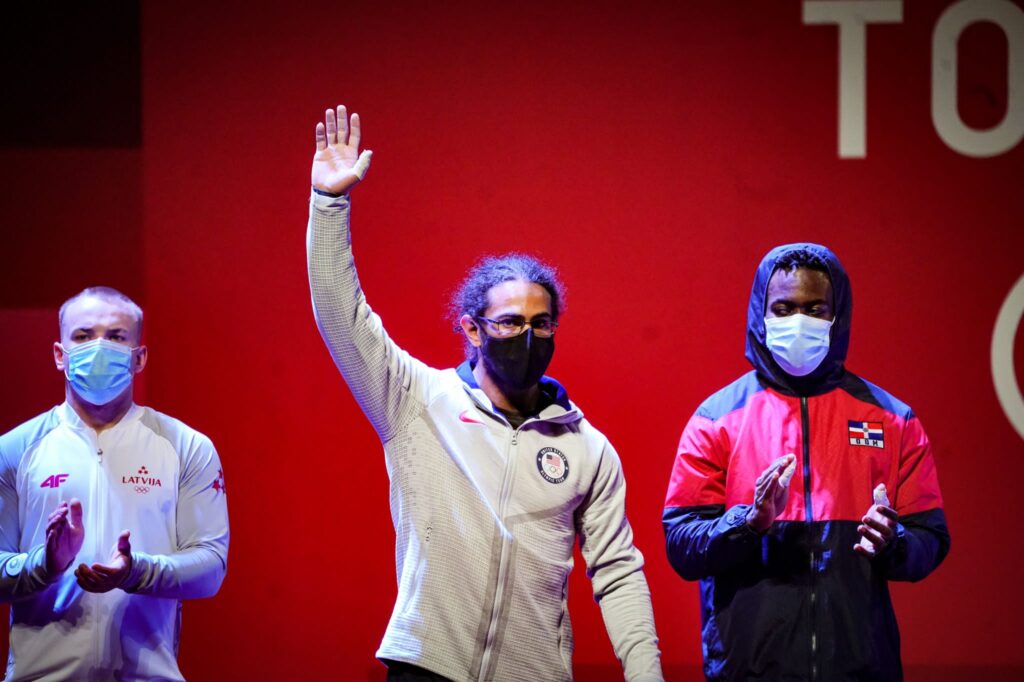 Looking to the 2024 Paris Olympics

*
Though Maurus did not indicate his plans for the 2024 Paris Olympics, he may not have a choice in the matter. Sunday's decision by the International Olympic Committee to give itself the power to eliminate sports from the competition has placed weightlifting at risk of being removed from the Olympic program.
Long-term governance issues with the International Weightlifting Federation and repeated doping cases have placed weightlifting at a higher risk of being cut from the 2024 Paris Olympic program. According to a Washington Post article, "the International Weightlifting Federation was led for two decades until last year by long-time former IOC member Tamás Aján. The governing body's problems were detailed in an investigative program by German broadcaster ARD."
USA Weightlifting, The Royal Belgian Weightlifting Federation, German Weightlifting, Weightlifting Fiji, Weightlifting New Zealand, Marshall Islands Weightlifting, The Hellenic Weightlifting Federation, Samoa Weightlifting And 2020 Olympian, Sarah Davies issued a joint statement Sunday issuing a call for the resignation of IFW leadership and strong reform to the sport.
"The simple reality is that we have one month to save this original beloved Olympic sport, and we call upon the sports' leadership to at this time put the sport above themselves," reads the statement.
The joint statement includes a list of actions the organizations and Davies, believe will prevent weightlifting from being removed from the 2024 games. Among the listed actions are:
The unqualified resignation of IWF leadership, as well as any individual identified by the IOC or named in any ITA, WADA, or McLaren report.
The passing of a new constitution with uncompromising eligibility criteria that ensure new leadership focused on good governance, athlete rights, and a fair field of play as advised by independent experts.
The implementation of all IOC requests detailed in various letters from the IOC
The joint statement concludes with an imploration in the name of would-be 2024 athletes. "We ask these things not in the name of politics but in the name of every athlete with ambitions of being present at the Olympic Games of Paris 2024 and beyond."
*This section of the article was written by Elizabeth Miller.