Following updated legislation, the King County Board of Health is expanding from 8 elected officials and 3 health professionals to 8 elected officials and 8 non-elected people. Applications from King County residents to join the Board are now being accepted. New members will begin their term in 2023.
Applications are due June 30, 2022
King County Board of Health
"The role of the Board is to advocate for the preservation, promotion, and protection of public health, prevent the spread of disease, set local public health regulations and some fees and licenses, and enforce state and local public health laws," states the King County website.
Some of the Board responsibilities include:
Supervises the health of King County residents by voicing and advocating priorities for protection of public health.
Collaborates with the Public Health Director and Health Officer to set an annual work plan which creates opportunities for action within the limits of the Board's workload and legal authority; and
May enact local rules and regulations as necessary in order to preserve, promote and improve the public health and authorize for the enforcement thereof.
Ensures a racial equity approach to policy making.
Board Members are Expected to:
Attend and participate in monthly meetings held on the third Thursdays of each month at 1pm.
 Nonelected members shall have the ability to vote except on legislation pertaining to fees.
Participate in subcommittees as needed.
Board Composition
Current Members:
Elected officials: Joe McDermott (chair), Girmay Zahilay (vice-chair), Rod Dembowski (alt), Jeanne Kohl-Welles, Tammy Morales (vice-chair), Teresa Mosqueda, Lisa Herbold, Sara Nelson (alt), Susan Honda, Deputy Mayor, City of Federal Way (vice-chair), David Baker, Mayor and City Councilmember, City of Kenmore, Heather Koellen, Councilmember, City of North Bend (alt), Janice Zahn, Councilmember, City of Bellevue (alt).
Health Professionals: Bill Daniell, MPH, MD (Vice Chair representing Health Professionals), Butch de Castro, PhD, MSN/MPH, RN, FAAN.
Public Health: Dennis Worsham, Interim Director of Public Health – Seattle & King County (Executive Secretary and Administrative Officer of the Board), Susie Levy, MPH, Government Affairs Analyst (Board of Health Administrator)
New:


(16 voting members and 8 alternates)

8 elected officials: 3 King County Councilmember and one alternate, 3 Seattle City Councilmembers and one alternate, 2 Sound Cities Association members and two alternates.
8 non-elected officials: 1 member and one alternate selected by the American Indian Health Commission, 7 members and 3 alternates representing public health professionals, consumers of public health, and community stakeholders. One public health professional must have expertise in environmental health.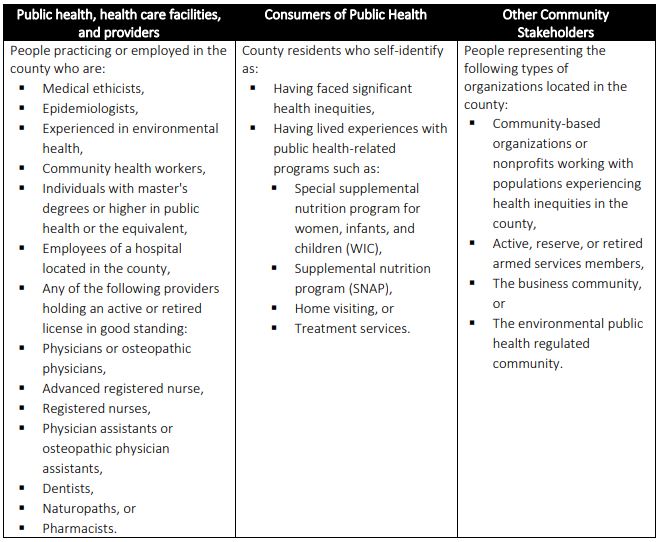 Term: Board member terms are three years. Initial terms beginning in 2023 will vary from one-year
to three-years. Appointments of non-elected members may be renewed up to three time.
Eligibility: Successful applicants will "have a demonstrated commitment to public health, who represent a diversity of expertise and lived experience, and who identify with historically underrepresented communities,: states the King County website. "The Board will also consider if an applicant's background meets the above categories, geographic diversity, service on other boards and commissions, and potential conflicts of interest."
Applications are due June 30, 2022
CLICK HERE to learn more: King County Board of Health Summary
To learn more, please visit the King County Board of Health website and join one of the two online open houses via Zoom Saturday May 21, 2-3:30 p.m. or Tuesday May 24, 6-7:30 p.m.:
Translation or other formats are available upon request – email [email protected] or call 206-296-4600. Please let inform KCBoH know at least five days before the open house if you would like interpretive services. Spanish and ASL will be provided.
The above information was obtained from the King County website.