Dotted along Auburn's Main Street are colorful banners on light posts, suited for each season. As we drift out of summer and into autumn downtown visitors are welcomed with banners boasting of Auburn's veteran heroes and spectacular parade. There is more to the Veterans Day banners.
"The banner program was created for our 50th anniversary, in 2015, to recognize and pay tribute to the brave men and women in Auburn who are serving, have served, or have given their life to our country in the U.S. Armed Forces," states the program description. "It also provides an opportunity for individuals, businesses, and Veteran Service Organizations to support those who have served by sponsoring a banner in downtown Auburn."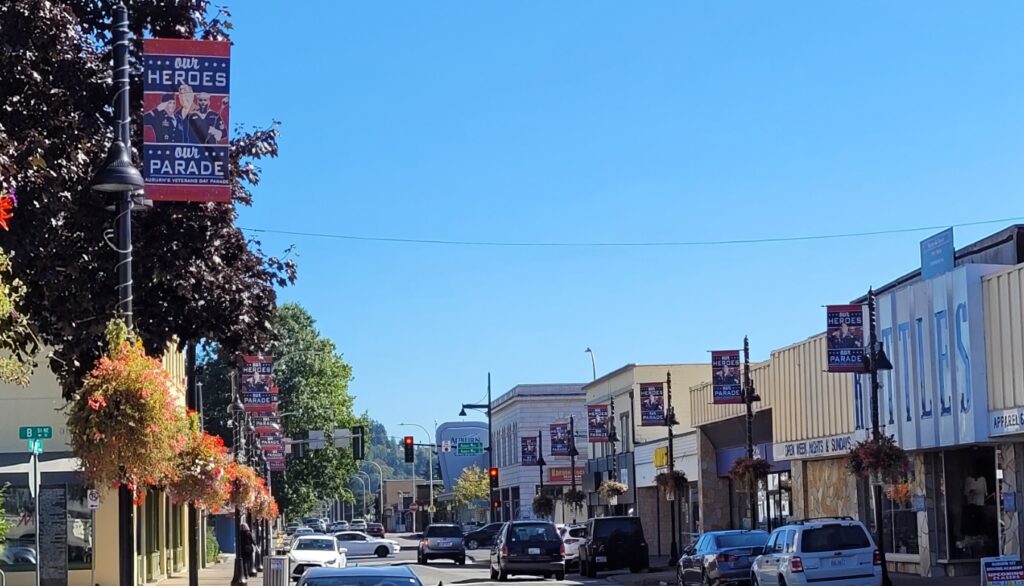 To have a tribute banner hung honoring a veteran or active military member, the honoree must be an Auburn resident, be an immediate family member of an Auburn resident, or be employed in the City of Auburn. Businesses, non-profit entities, and Veteran Service Organizations based in Auburn may also sponsor a banner.
The banners are hung on Main St. in downtown Auburn from Auburn Way S. to B St. NE and along Division St. from Main St.to 3rd St. SE. Of the 74 available banners, 32 are specially designated for an honoree or by a sponsor. The tribute banners are currently up and will remain up until mid-November.
In Honor Of:
SGT Tyler J. Betts 25th ID U.S. Army
LTC Darla Reed U.S. Army
Major Cameron Thrall U.S. Marine Corps
In Memory Of:
CPT. Donald W. Anderson, Sr. U.S. Army
SGT. Rudy Beyersdorf U.S. Army Air Force
CPT. Aaron J. Eidem US Army Military Police
A1C James F. Hinman U.S. Air Force
SGT. Cecil R. Karr U.S. Army Air Force
PO1 Donald F. Kleindl U.S. Navy
QM Robert 'Mike' Lisle U.S. Navy
AMM3 Ian R. MacMillan U.S. Navy
1LT Donald T. Murphy U.S. Army
Bob Newman U.S. Navy
Bill Peloza U.S. Navy EM3
Sgt John Pepper U.S. Marine Corps
SFC Eugene Reed U.S. Army
1SG Ronald Shropshire U.S. Army
Sponsored By:
Auburn Examiner
Auburn Lodge 1955 Sons of Italy
Auburn Police Officer's Association
Auburn VFW Post #1741
The Employees at EZ-ACCESS
Green River College Foundation
KOMO 4
KOMO News Radio AM 1000/97.7 FM
Kent DAV Chapter A-One #33
Puget Sound Honor Flight
Seattle Fedele Lodge 1390 Sons of Italy
Talk Radio 570 KVI
Valley Cities
Veterans of Foreign Wars Washington
Washington Gold Star Mothers
At this time the city is planning for the 56th annual Veterans Parade to be held Saturday, November 6. with an 11:00 a.m. start. "The parade typically boasts over 200 units and nearly 6,000 parade participants, including 25+ marching bands, military vehicles, veterans' units, honor guards, and more," the city website states.
The tribute banner program is closed for 2021. Those wishing to participate in the future can do so by submitting an application through the parks department when the program opens for 2022.