Family, friends, staff, and residents gathered at City Hall Monday night for a historic swearing-in ceremony as three new councilmembers joined the Auburn City Council, making it the most diverse in the city's history.
Chris Stearns (Position 1), James Jeyaraj (Position 3), and Robyn Mulenga (Position 5) joined returning Councilmember Bob Baggett (Position 7) as King County District Count Judge Matthew York led the swearing-in ceremony.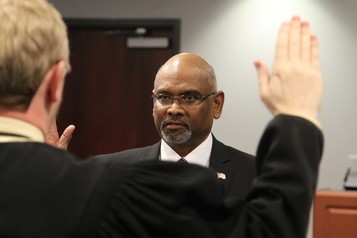 "It is a great honor to serve as the first Asian Indian American immigrant on the most diverse city council in Auburn's history, in our region, and possibly the state of Washington. As your elected Councilmember, I will serve for the betterment of our city and its citizens," said Councilmember Jeyaraj.
Originally from Singapore, Jeyaraj moved to Washington in 1985. He has served previously on the City of Auburn's Parks and Recreation Board and works as a production planner for the Lighthouse for the Blind.
"I want to thank the people of Auburn for giving me this chance to serve. I am proud to be the first Native American elected to the Council in our City's history. I am committed to fighting for equity, justice, and jobs. I love this city and as long as I am here, I will serve our City to the best of my ability," said Councilmember Stearns.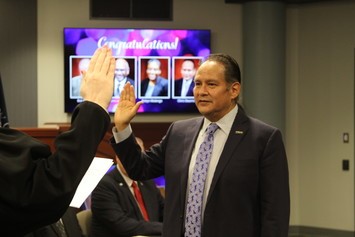 Stearns currently serves as Of Counsel to Hobbs Straus Dean & Walker and has served in previous roles as Chairman of the Washington State Gambling Commission, Director of Indian Affairs for the U.S. Department of Energy, Democratic Counsel for the Committee on Natural Resources and Deputy Counsel to the House Subcommittee on Native American Affairs.
"The council now reflects the diversity of our city and I am honored to be a representative for our whole community. As a Councilmember I will continue to create an inclusive environment where all people feel welcomed and accepted," said Councilmember Mulenga.
Mulenga, a program analyst for the FAA, served as school board director of the Auburn School District for four years prior to being elected to the council.
"It has been an honor to serve the people of Auburn during my previous term and I am grateful for the opportunity they have provided me to continue that service," said Councilmember Baggett.
This will be Baggett's second term on the council. He served as Deputy Mayor in 2018 and is a board member of the Auburn Noon Lions.
Stearns, Jeyaraj, Mulenga and Baggett are serving four-year terms, running through December 2023.
---
The above is a press release from the City of Auburn.  The Auburn Examiner has not independently verified its content.