Mother nature decided to gift the Puget Sound with repeated blankets of cold white stuff. Sure, it's cool cold for an hour or two. But Waste Management understands that when your trash cans are full from holiday celebrations and recycling bins are sharing hints of just how happy the holidays were, a missed week of service is pretty Grinchy. So this week they are operating in recovery mode.
What does this mean for you?

For The Week Of January 3,
in Auburn

:
Waste Management is prioritizing garbage and recycling for the week of January 3rd. Please place garbage and recycling on the curb on your regular service day.
  Note: if you missed recycling pick up last week, you will wait until your next recycling day.
If you have extra garbage or recycling to set out due to service delays, please follow the guide below when placing additional items out for pick up.
For recycling specifically, please do not put recyclables in plastic bags. Also, keep recyclables dry to make sure your used materials will be made into new products. If paper and cardboard get wet, the material cannot be recycled!
There will be no collection of yard waste this week. To make up for any inconvenience about delayed yard waste services, Waste Management will collect extra Yard Waste missed during the storm, at no extra charge.

This collection will happen the week of January 10 through January 14.

Holiday Tree recycling has been delayed until the week of January 10 through January 14. See below for how to properly place your tree out for pick up.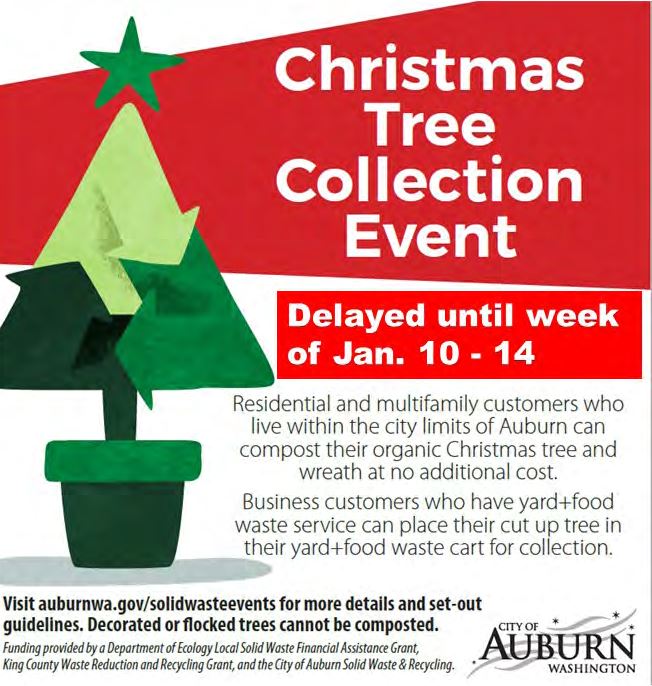 The Waste Management website: wmnorthwest.com is your best resource for the most up to date information and updates regarding any services changes.