Fall 2020: there's a soft breeze in the crisp autumn air. Birds are chirping, the sun is setting earlier each day, and kids in Auburn are missing the school bus on purpose. What was supposed to be two weeks of at-home quarantine during the Coronavirus pandemic slowly turned into seven months (and counting).
Public schools in Auburn have been closed indefinitely due to COVID-19, allowing students to participate in school solely through the eyes of a webcam. While this learning style has its perks, many families have found at-home learning difficult, especially parents who work during the day.
This issue has been resolved for the staff members at Orion Industries in Auburn, through the creation of Orion's Learning Pod.
Orion's Learning Pod is a safe, supervised space for the children of Orion's employees to learn remotely according to their school, grade level, and class. The pod, set up in a redesigned vacated space at Orion's, is a learning hub for 15 children from six different school districts in the Puget Sound. The pod is complete with a designated small library, socially distanced workspaces, and a craft area for each student to enjoy.
"Mom Mode" Made it Happen
The creation of the learning pod came into fruition when Kristina Pressley, Human Resources Manager at Orion Industries, realized her children would not be physically returning to school in the Fall.
"When I learned that the Auburn School District was going to be doing virtual learning, for at least the first part of the school year, I went into Mom Mode and began to figure out what to do with my 9th and 5th graders", said Pressley. She remembered a time when her children were little, she started a pre-school coop with other moms in the neighborhood. This idea sparked the creation of the learning pod, and the Facilities Manager at Orion Industries loved the idea.
"We have a portion of our building, upstairs from our manufacturing shop that used to be used as a Contact Center Training." Pressley continued, "as the HR Manager, it occurred to me that there may be other parents working for us that were in the same situation. This could be a way to assist those employees with helping their kids in their online learning as well as keep them employed."
There are currently 15 students in the first-tenth grade that utilize the learning pods from six different school districts, including Auburn, Kent, Tacoma, Bethel, Highline, and Enumclaw. Each day, two parent volunteers at Orion Industries monitor the kids and often provide basic technical assistance, like help getting logged into classes. Since each student is provided a laptop, they bring their technology to set up each day.
The overall employee response has been "remarkable," shares Pressley. "Even our employees who don't have kids, or whose kids are out of school have been so supportive, some of them even volunteering time in the Pod." The funding for Orion's Learning Pod came directly from the generous donations of staff members.
Keeping the Kids COVID-Free (and fed!)
With COVID-19 safety a top priority, each student is equipped with hand sanitizer, tissues, and wipes to disinfect their common areas and workspaces. Masks are also being utilized by both students, parent volunteers and staff members.
Additionally, the Auburn School District provides free breakfast and lunch meals to students during the school year. According to the Auburn School District's Child Nutrition Services, school buses will provide meals at specific stops throughout the district. Pressley reached out to ASD Child Nutrition Services and the Transportation Department to have Orion Industries included in their route. The kids go down every day to meet the bus and pick up their meal.
"We are so thankful for the free breakfasts and lunches the school district is able to provide," said Pressley. "The kids love going down to meet the lunch bus and gather up the lunches!"
For Orion Industries, business is continuing as usual. They are continuing their training practices in the manufacturing shop and re-opening their Office Skills and Customer Service training programs at their own pace. According to Pressley, all typical procedures have gone uninterrupted, "except for the fact that we have a bunch of kids upstairs."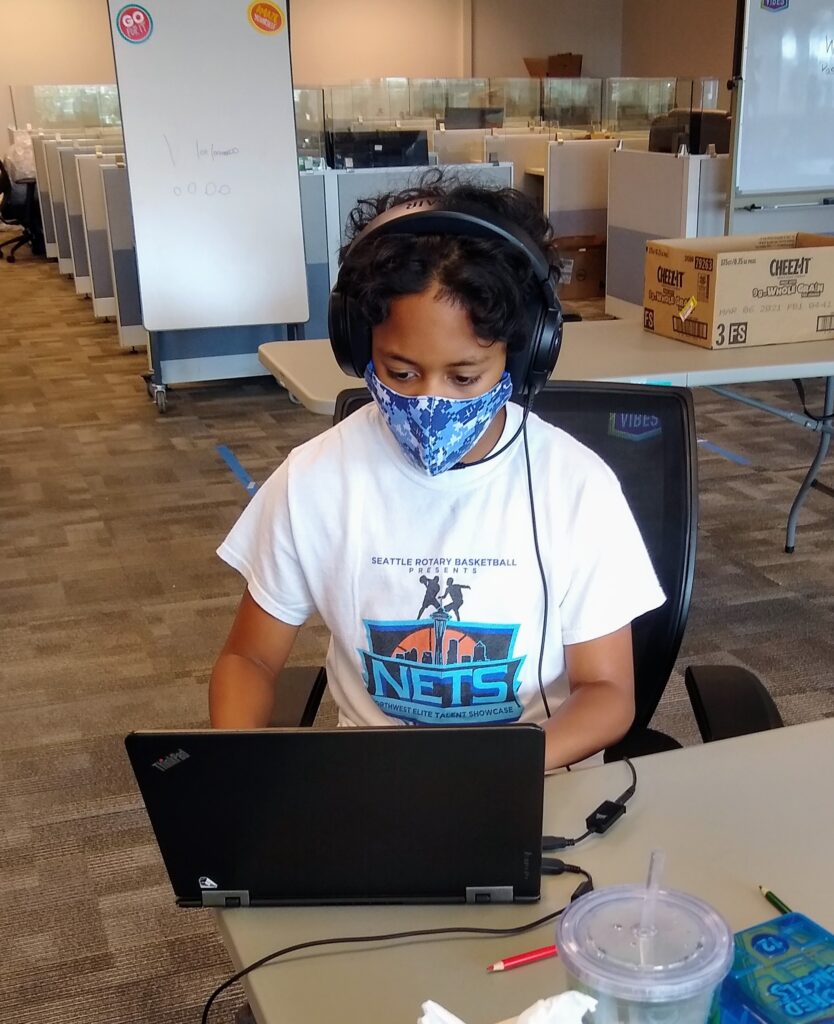 Pressley recently spoke with Pod School Prep, an online training program for those looking to start pandemic learning pods, about the Orion Learning Pod. She shared some words of advice for those looking to establish pods in their own workplace.
According to Pressley, the most crucial factor is getting the company's insurance to agree. Pressley worked closely with their insurance provider to ensure the kids' total safety. Before the pod's launch background checks for employees, badge access, abuse training, and the creation of a designated bathroom for students were all established and completed.
Pressley shared that the Pandemic Pods Facebook page has been beneficial in the success of Orion's Learning Pod, as it's an excellent source for policies, parent agreements, and COVID-19 protocols. She explained that learning about the various systems and expectations has been helpful, especially when dealing with a rotating set of students and staff supervisors.
"It's been difficult for everyone with all of the changes that COVID-19 has brought with it." Says Pressley, "Orion's leadership team has been dedicated throughout the last few months to offering benefits and utilizing programs that can help to keep our employees working and paid. This is another way that we can offer support in these challenging times."

[yikes-mailchimp form="1″]