For years speculation has surrounded the potential of the gravel lot off of A St SW. Situated between the Auburn transit center and Merrill Gardens the raw land was a prime location for new development. The city began to court different developers in 2011, under the guidance of then-Mayor Pete Lewis. Pillar Properties purchased the lot in 2013. Pillar Properties promised a product that would be worthy of the downtown location.
Changing Auburn's Skyline
The new building, Auburn Town Center, will be a seven-story, 296,051 square foot building. There will be 226 dwelling units, 1,993 square feet of commercial space and 251 parking spaces. The sale of the red house on the corner of Division St S and 2nd St SW allows for the building's footprint to include the entirety of the lot between A St SW, Division St SW, 1st St SW and 2nd St SW.
"Not only will Auburn Town Center change the skyline and landscape of downtown but between the residents and employees Auburn Town Center will add an additional 450 people to a single block of the downtown," Said Josh Arndt, Senior Economic Development Officer for the City of Auburn. "That's a significant number of purses and wallets with more to follow as other projects begin to take hold. Retailers, food and beverage and entertainment establishments will follow the concentration of people and money. Auburn's downtown will see significant change over the next few years as a result."
Pillar Properties Returns to Auburn
Pillar Properties is a Seattle based company with deep family roots to the Pacific Northwest. In the 1890s, Richard Dwight (R.D.) Merrill moved to the Pacific Northwest to establish timber holdings. According to the company's website, "from the company's pioneering beginnings in the timber industry to the remarkable success of Pillar Properties and sister company Merrill Gardens, the R.D. Merrill Company remains a strong, family-owned enterprise with a deep commitment to the Pacific Northwest."
This is not the first project Pillar Properties has completed in Auburn. Pillar Properties also developed Merrill Gardens, located across the street from the Auburn Town Center site. Merrill Gardens is the sister company to Pillar Properties.
Plans for the Auburn Town Center began with a January 2018 pre-application meeting with the City of Auburn. After nine months, Pillar Properties submitted their development application in September 2018. The plans were approved, after several reviews and adjustments, on January 23, 2019. According to Jeff Tate, City of Auburn's Director of Community Development Services, "this very seasoned developer says that it is the fastest he has ever seen a project move from submittal to issuance."
During the nine months of planning, some ideas for the new building were adjusted or eliminated. "There was a lot of creative brainstorming that occurred between the city and [Pillar Properties] between pre-app and submittal. Ideas were not really excluded due to code issues; those decisions were based more on cost and feasibility," shared Tate.
"[The Planning Department] finds this to be an exciting project," said Tate. "It is transformational for our downtown. It has been extremely rewarding to work with an architect and owner who care so deeply about design and the surrounding community. Under city code, they could have obtained approval for a building that would have been $10,000,000 less expensive."
What To Expect From The Auburn Town Center
Current expectations for unit sizes and styles are:
5 two story loft units (average of 875 sq. ft. per unit)
16 Studios (average of 485 sq. ft. per unit)
55 Open 1 bedroom units (average of 510 sq. ft. per unit)
13 Alcove 1 bedroom units (average of 620 sq. ft. per unit)
29 1 bed/1 bath units (average of 630 sq. ft. per unit)
71 1 bed/1 den units (average of 715 sq. ft. per unit)
31 2 bed/2 bath units (average of 1,170 sq. ft. per unit)
6 2 bed/2 bath + den units (average of 1,133 sq. ft. per unit)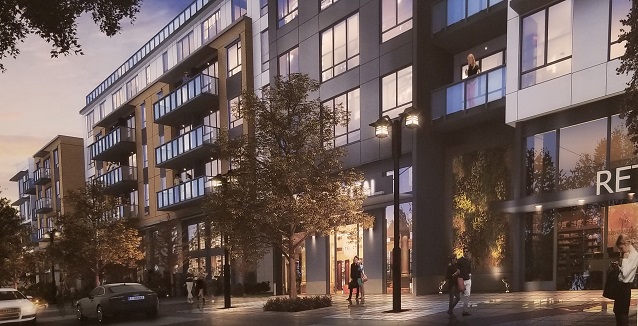 A unique feature of the Auburn Town Center is the availability of "live/work" units facing Division Street. "These units are two stories. They have ground floor or street level front entries, with [an attached] second story," explained Tate. "Occupants are allowed to use them as purely residential units, or they can open a first-floor office or retail space and live upstairs. So [someone] could use the first floor as their business and live upstairs."
Affordable Housing
None of the Auburn Town Center apartments will be designated as low-income housing at this time. It is the choice of the developer whether apartments are converted to low-income housing in the future. "The City does not make [designating low-income housing] a requirement of the developer. Additionally, while cities like Bellevue and Redmond provide incentives for affordable units, the City of Auburn has a robust inventory of existing affordable units combined with a steady stream of new units," explained Tate.
In 2018 895 affordable housing units were built. "298 of last year's affordable units were built on Lea Hill. 597 were built behind Lowes," said Tate.
Members of the Pillar Properties team and leaders from the City of Auburn came together on February 7th to celebrate the groundbreaking of the Auburn Town Center. Construction on the Auburn Town Center is expected to begin this month (March). Pillar Properties estimates 24-36 months for the project's completion.
Update: This article last updated March 13, 2019 at 3:20pm