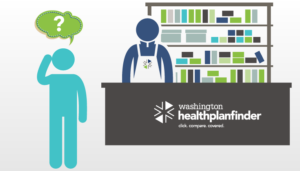 Due to recent federal action bringing new savings opportunities to current and new individual health insurance market customers, Washington Healthplanfinder is extending the current special enrollment period from May 15 through August 15.
Enroll with Washington Healthplanfinder
This aligns with the recent federal announcement extending the special enrollment period for those using the federal marketplace. This special enrollment period allows currently uninsured individuals, and people both on and off the Exchange, the opportunity to benefit from these new savings.
The recently passed American Rescue Plan Act (Act) significantly increases the amount of tax credits individuals who enroll through Washington Healthplanfinder will receive, which reduces their monthly premiums. The Act also extends tax credits to middle-income Washingtonians who previously were not eligible for assistance and provides additional tax credits to all customers who receive at least one week of unemployment compensation in 2021.
"Every Washington Healthplanfinder customer deserves to receive the full benefit of the new law as soon as possible," said Chief Executive Officer Pam MacEwan. "For many of our customers, this may lower their monthly premium close to zero dollars. The new act provides significant benefits for 2021 and 2022 to our customers and we are working quickly to implement changes by early May. Until then, customers need to keep their information up to date in Washington Healthplanfinder."
Increased Tax Credits
Beginning May 6, new customers who apply through Washington Healthplanfinder will be able to see the amount of increased tax credits available through the new Act.
The exact amount premiums will go down depends on where an individual lives, their age, and their income. Illustrative examples based on King County rates are as follows:
A 27-year-old making around $25,000 per year can get nearly $300 in savings each month to apply to their premium. The savings amount increases with age.
A 60-year-old couple making around $35,000 per year can now get over $1,500 in monthly savings to apply to their premium.
A family of four making $55,000 per year can now get over $1,000 in monthly savings to apply to their premium.
Current customers already receiving tax credits should keep their current contact and income information – including unemployment income – up to date in Washington Healthplanfinder to ensure they receive the maximum available benefit. The majority of these customers will not need to take action to receive additional tax credits and will see changes reflected in their June premiums. Customers will receive notification from Washington Healthplanfinder in April if any additional information is needed.
Customers paying premiums over 8.5 percent of their annual income will be eligible for tax credits for the first time if they report their income information. These new tax credits will be reflected in June premiums.
"If customers have not reported their income in their Washington Healthplanfinder application, it is important to do so as soon as possible to take advantage of these savings" MacEwan explains. "Additionally, those who have received one week of unemployment income in 2021 should come in now, set up an account, report their income, and review plan options. These customers may already qualify for free or low-cost health coverage. Customers who report unemployment income for 2021 will see these changes reflected in their June premiums.
Customers seeking coverage through Washington Healthplanfinder can contact an Exchange certified Broker, Navigator, enrollment center, or the Customer Support Center between 7:30 a.m. to 5:30 p.m. Monday-Friday at 1-855-923-4633; TTY: 855-627-9604 to initiate coverage. Free help from local experts is accessible by visiting: https://www.wahealthplanfinder.org/_content/find-expert-advice.html
Read more Frequently Asked Questions on the American Rescue Plan Act of 2021.
Reminders:
Enrollment is offered year-round on Washington Healthplanfinder to individuals and families through Washington Apple Health (Medicaid).
About Washington Healthplanfinder
Washington Healthplanfinder is an online marketplace for individuals and families in Washington to compare and enroll in health insurance coverage and gain access to tax credits, reduced cost sharing and public programs such as Medicaid. The next qualified health and dental plans open enrollment period for Washington Healthplanfinder begins Nov. 1.
---
The above is a press release from Washington Healthplanfinder.  The Auburn Examiner has not independently verified its contents and encourages our readers to personally verify any information they find may be overly biased or questionable. The publication of this press release does not indicate an endorsement of its content.