Auburn Mayor Nancy Backus was awarded outstanding achievement for the R.E.A.D.Y Program at the 2018 City Livability Awards Program during The U.S. Conference of Mayors' 86th Annual Meeting in Boston.
The award recognizes mayoral leadership in developing and implementing programs that improve the quality of life in America's cities, focusing on the leadership, creativity, and innovation demonstrated by the mayors.  This year's winning cities were selected by former mayors from a pool of over 150 applicants.
"Our City Livability Awards Program gives us the chance to express our pride in cities' mayoral leadership in making urban areas cleaner, safer, and more livable," said Tom Cochran, CEO and Executive Director of the Conference of Mayors.  "We are grateful to Waste Management for its many years of support for the City Livability Awards Program, and for the opportunity to showcase the innovation and commitment of mayors and city governments across the country."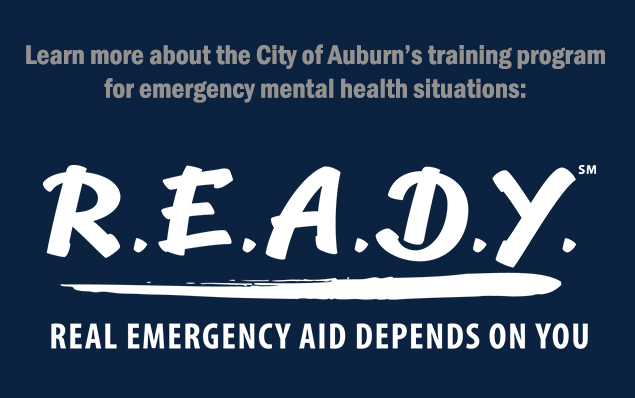 Susan Moulton, Waste Management's Senior Corporate Director of Public Sector Solutions, presented the City Livability awards during today's annual luncheon in Boston, MA.  "Through the City Livability Awards, Waste Management is immensely proud to honor US Mayors who are committed to strengthening our communities and enhancing the lives of their residents across the nation," said Moulton.
Auburn's campaign, the R.E.A.D.Y (Real Emergency Aid Depends on You) program, spearheaded by the Auburn: Healthy for Life imitative; put emphasis on increasing mental health outcomes for high-risk populations in the South King County region. Through a readily-available instructional video and targeted outreach campaign, the R.E.A.D.Y campaign places emphasis on individual response to mental health crisis – and works to inform everyone in the Auburn community about what to do if a friend, loved one, coworker, or acquaintance is undergoing a mental health lapse. The R.E.A.D.Y program was readily embraced by the Auburn public and varying Auburn entities: including Public Health, Auburn Police and Fire departments, Valley Cities Behavioral Health, City Council, Family Practice residents of the Wright Center and local psychiatrists. Since being introduced to Auburn, R.E.A.D.Y has been approved to be shared with other communities across the country.
Mayor Nancy Backus was delighted to hear that the hard work of the Auburn: Healthy for Life campaign had been recognized. "The contribution of the R.E.A.D.Y campaign benefits all in Auburn – R.E.A.D.Y empowers our resident's role in helping friends and family in the community," Backus said of the campaign. "By including local mental health professionals and law enforcement; we are able to offer residents and others the opportunity to know where and when to get help when they need it most."
Outstanding Achievement Awards were also given to five cities with populations of 100,000 or more: Austin (TX), Bridgeport (CT), Forth Worth (TX), Plano (TX), and Tallahassee (FL), and four other cities with populations of less than 100,000 — Huntington (WV), Lima (OH), Niagara Falls (NY), and Sumter (SC).
For more information on the winners, please visit: https://www.usmayors.org/city-livability/
---
The above is a press release from the City of Auburn.  The Auburn Examiner has not independently investigated its contents.