I am a suicide survivor. My first attempt was after my high school graduation. The memory of that moment is so vivid; it's as though it happened moments ago. I was alone, sitting at my desk, a bottle of pills in my hand. I was the third of my group of friends to attempt suicide in so many months.
Chaos and instability marred my early 20's. I was hospitalized a total of five times for suicide attempts or ideations. Two of my hospitalizations occurred within the same month. One was the result of going to the crisis center for help*. The intervention of friends calling the police to do a welfare check on me prevented one of my attempts.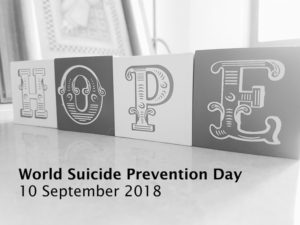 The morning after I tried to overdose on all of my medication I was hospitalized for the last time. When I tried to overdose I was in a house full of people, none of whom knew what was going on. I was in treatment and did not seek aid. I was lucky my body rejected the medication I took. Though I spent the night violently ill; I was still alive.
Now, over 15 years later, I may still have PTSD, Depression, and Anxiety – I am healthy and know when I need additional care. I have an excellent doctor, therapist and support system.
However, the thing with suicide is – it's always lurking. For someone who has gone to that abyss once, there is always a passive internal struggle in one's mind. Though there may not be a plan, the question of "it would just be easier if…" has settled in, ready to be asked. In trying times of vulnerability, suicide is an easy temptation.
That temptation came calling this year for me. Because I have surrounded myself with a support system that will not let me fall I did not give in. That is one of the most critical things in suicide prevention: having trained medical professionals you trust and can always turn to, and having people you know you can emotionally trust fall into when you need it.
If you have someone in your life that needs support, commit to being there for them. However, if you know that you cannot be that person for them – be honest and tell them that. It is better you tell them now when they are not in crisis than when they need you the most.
If you are someone who has ever questioned if your life is worth living, I promise you: IT IS. Art Williams was right when he said, "I'm not going to tell you that it's going to be easy, but I am going to tell you it's going to be worth it." So find your tribe, get a safety plan, and find professionals you trust.
Most importantly: if you ever feel like giving up, remember the reason you have held on this long. Because this world is a better place with you in it, I promise.
*I lived in Maryland at the time. Local crisis resources may differ.
Headline titleare lyrics from Ingrid Michaelson's San Fransisco