Never heard of Disc golf? Never heard of Mando's Disc Golf Pro Shop?  Shame on you, Auburn Community.  Just kidding, but here's a crash course, or refresher, about one of Auburn's hidden gems.
Mando's Disc Golf Pro Shop (Mando's), a sporting goods store dedicated to disc golf, is located in downtown Auburn on Main Street. The shop was originally opened in Auburn in 2004, the current storefront its second location. Rocky Cox and Trevor Schneckloth took over ownership of Mando's in June 2020.
So, what is Disc Golf?
Disc Golf is an evolving sport within a wide range of communities in the United States and worldwide. You could say that throwing a disc is similar to throwing a frisbee. But this is not frisbee, folks, and simplifying the skill involved in this sport would be argumentative at best.
To play disc golf, you hurl plastic discs in any fashion, from a tee to a target. The most common target is an elevated metal basket made of chains. Holes often have Mandatories (Mandos – get the name now?) or required navigation of obstacles between the tee and the target.
Courses have specific holes, much like traditional golf, which carry you through natural surroundings as you navigate the course. Courses typically consist of 9-18 holes, although it varies by location. The popularity of disc golf has grown to such a degree that there is a greater need for more courses.
Disc golf is a gateway to the outdoors and enjoying family time.  With a tight-knit camaraderie that comes with playing, anyone can play and enjoy the game. Disc Golf is also a COVID-19 friendly alternative to activities that may be limited at this time.
Kyle Crabtree sinks a disc in a target inside Mando's – from across E Main St. | Source: Mando's
Disc Golf Clubs?
Like golf clubs, each disc (or disc plastic) has a specific purpose for each player and situation.  The technology put into each disc is impressive. Most brands designate flight ratings on each disc to help describe the intended aspect of the disc's flight. Though different, the primary characteristics brands' rating systems typically focus on for a disc's personality are speed, glide, turn and fade.  Any one of these factors creates a different shot.
Just as each disc's specifics can be unique, so too is the skill level of the player enjoying the game.  Mando's carries equipment to supply everyone from beginners to pros.
From Beginners to Pros
Pros? Yes! Professional disc golf sponsorships and contracts have reached the million-dollar mark.  Paul MacBeth is one of the world's top players, recently eclipsing the $1M plateau by honing this craft.  Mando's sponsors local players they feel have shown exceptional skill within the sport.  They are currently sponsoring a female player named Ciara Griffus.
If you're interested in disc golf but not quite yet ready to get out on the course, you can catch coverage of this surging sport on networks such as ESPN.
Recognizing the value a sport like disc golf can add to the community, Cox and Schneckloth have launched a Rookie League for new players through the shop.  The owners shared there will be separate divisions for ages and skill levels.  They expect the league will primarily be based at the White River Course on Saturdays.  There will be an entry fee for Saturday tournaments, with prizes and an Ace pot.
Building Community Through Sport
Mando's uses entry fees from hosting local tournaments to help support and grow disc golf for everyone in the community.  Wanting to maximize the growth of disc golf among all skill levels for everyone's enjoyment, Schneckloth and Cox also build new tee boxes, organize workshops, and facilitate clean-up efforts at the courses. "We want to give back to the players and the courses within the area," Schneckloth said.
Disc golf is a sport where the honor system is vehemently supported.  Part of that includes the right to play courses for free.  With that honor comes the responsibility of each player to keep the courses clean and demonstrate good gamesmanship.  Mando's helps support this by hosting lost and found boxes at local courses.  Players reunite with their lost discs at the pro shop.
Players of notoriety from around the region frequently conduct workshops or lessons at Mando's. The shop's down to earth and welcoming environment invites these same players to visit, often sharing their insight and knowledge of disc golf during their stop in.
In addition to the invaluable and accessible information from the shop owners and other players, the app "Udisc" is an information highway for local course locations, information, and a real-time scorekeeper for players. Udisc also has an article about Mando's for your viewing pleasure.
If you are ready to go from spectator to player, it doesn't take much to get involved. Go to Mando's and pick up some beginning discs. Cox, Schneckloth, and any number of players who frequent the shop will be more than happy to chat with you and help you learn all you need to know to become the next great disc golf champion.
So what are you waiting for? Get to Mando's and add some vibrant color to this dark winter season!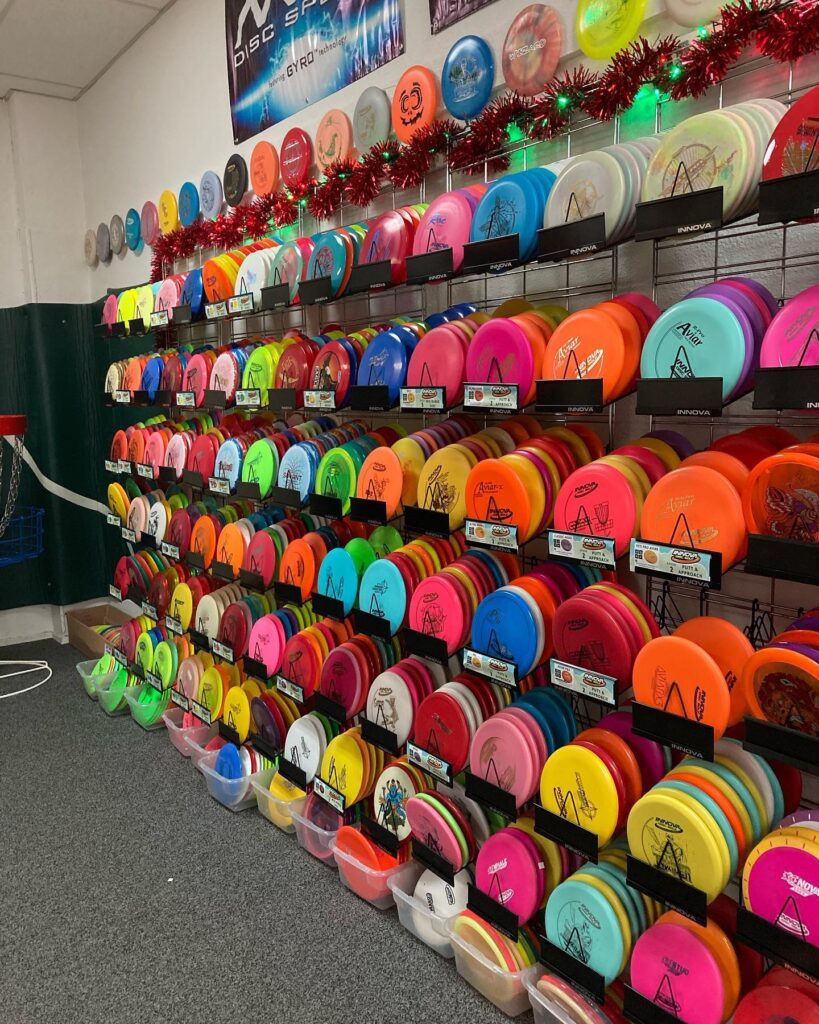 Mando's Disc Golf Pro Shop
http://www.mandos-shop.com/
(253) 338-6257
510 E Main St, Auburn, WA 98002
Facebook: https://www.facebook.com/Mandosdiscgolfshop
Instagram: https://www.instagram.com/mandos_disc_golf/
Hours:
Monday: 11:00 AM – 5:00 PM
Tuesday: 11:00 AM – 6:00 PM
Wednesday: 11:00 AM – 6:00 PM
Thursday: 11:00 AM – 6:00 PM
Friday: 11:00 AM – 6:00 PM
Saturday: 9:00 AM – 5:00 PM
Sunday: 8:00 AM – 3:00 PM
---
Sources:
To write this article the Auburn Examiner spoke with the owners of Mando's Disc Golf Pro Shop, referenced https://udisclive.com/, and the PDGA.