Things started to kick into high gear this past week. Inventory fell another 9.01% (down 29.96% since its November 2nd high of 1,355 homes for sale). Price per square foot rose again and is now up about 5.85% since its early November low of $376 per square foot. Moreover, the median house price rose $10,450 this past week here in Seattle. These stats are Seattle-specific, but the trends apply to every city here in Puget Sound.
The median house price snowball that started rolling downhill in May of 2018 looks like it's on track to start rolling back uphill. Here's why: There was a spike in inventory in May.  This caused median house prices to stall.  The media wrote about it.  Potential homebuyers held back.  This withdrawal prompted median house prices to stall further.  The media runs more articles more about the market stall.  Homebuyers keep holding back. This cycle continued, until now.
With inventory falling off its annual cliff, simple supply/demand economics has prices starting to increase. Throw into the mix that in the last six weeks interest rates being down about .35%, and suddenly there's a little motivation to buy. It's an opportunity to capture a relatively low-interest rate before house prices rise.
But What Does This Mean?
Based on the market behavior, here's the projection of will happen now and moving forward, as the snowball begins back uphill: Market inventory will fall. Median house prices will rise accordingly.  The media will respond with more articles (like this one!) Buyers who were waiting on the sidelines in 2018 will get active.  Median house prices rise more in response to the increase in activity.  Media will write more about increasing prices. More homebuyers will jump into the market, and so on.
It's important also to pay attention to interest rates. While the snowball is projected to go back uphill, and median home prices increase, interest rates have been falling. They're currently down .35% in the last six weeks. This rate translates into about $127.82 interest savings per month on a $600,000 loan. That's significant! Not only is that $1,533.84 savings per year but comparing a $600,000 loan at the Bankrate survey rate of 5.1% a few weeks ago, the payment would be $3,257.70. If a prospective homebuyer was comfortable paying this amount, the now lower interest rates would mean that instead of borrowing only $600,000, they could now borrow $625,000. This new loan amount would result in a $3,260.30 payment per month at 4.75% interest.
We've been seeing the market starting to take shape for several weeks now. Prices are likely, as low as they're going to be for a while here in Puget Sound.
Interest Rates
Per Bankrate.com, the 30 Year Mortgage interest rates declined another 8 basis points this past week to 4.75%, with .35 in discount and origination points. Rates have fallen .35% in the last month and a half. Rates are .61% higher than the 52-week low interest rate and are near their highest levels since February 2011.
The 30-year fixed mortgages in this week's survey had an average total of 0.35 discount and origination points.
Over the past 52 weeks, the 30-year fixed has averaged 4.69 percent. This week's rate is 0.06 percentage points higher than the 52-week average.
The 15-year fixed-rate mortgage fell to 4.13 percent from 4.21 percent.
The 5/1 adjustable-rate mortgage fell to 4.31 percent from 4.35 percent.
The 30-year fixed-rate jumbo mortgage fell to 4.63 percent from 4.72 percent.
At the current 30-year fixed rate, you'll pay $521.65 each month for every $100,000 you borrow, down from $526.48 last week.
At the current 15-year fixed rate, you'll pay $746.22 each month for every $100,000 you borrow, down from $750.26 last week.
At the current 5/1 ARM rate, you'll pay $495.46 each month for every $100,000 you borrow, down from $497.81 last week.
Bankrate.com's Weekly Survey
Results of Bankrate.com's weekly national survey of large lenders conducted December 19, 2018, and the effect on monthly payments for a $165,000 loan:

The "Bankrate.com National Average," or "national survey of large lenders," is conducted weekly. The results of this survey are quoted in our weekly articles and national media outlets. To conduct the National Average survey, Bankrate obtains rate information from the 10 largest banks and thrifts in 10 large U.S. markets. In the Bankrate.com national survey, our Market Analysis team gathers rates and/or yields on banking deposits, loans, and mortgages. We've conducted this survey in the same manner for more than 30 years, and because it's consistently done the way it is, it gives an accurate national apples-to-apples comparison.
These charts are Seattle Specific, but the Puget Sound Real Estate Market mirrors the Seattle market.
---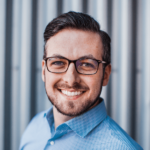 Scott Sheridan is a Loan Officer with Primary Residential Mortgage, Inc.  Being in the mortgage industry for three years, Scott brings a fresh millennial flair to the industry. He is well-versed in the most modern, efficient, and convenient ways to get things done. Scott combines these skills with a genuine love of his work and recent experience in what is it like to be a first and second-time home buyer.  You can follow Scott's weekly market updates on his PRMI Facebook Page.