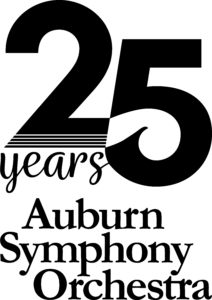 Auburn Symphony Orchestra is celebrating its 25th anniversary!
The Auburn Symphony Orchestra is seeking an artist or artists to create a t-shirt design to be featured on shirts, tote bags, and other merchandise that will be sold in ASO's online shop. Designs should incorporate themes and images relating to Auburn Symphony Orchestra, music, and/or Auburn, Washington.
ASO's mission is to change lives and our South Puget Sound community through the shared experience of live orchestral music performances and by nurturing the relationship between our audiences and our artists.
The first five applicants will each receive 2 free tickets to an Auburn Symphony Orchestra concert. The chosen artist will receive an honorarium of $500. Deadline for entries is Friday, October 22, 2021.
For more information about how to apply, please go to www.auburnsymphony.org.
---
The above is a press release from the Auburn Symphony Orchestra. The Auburn Examiner has not independently verified its content.