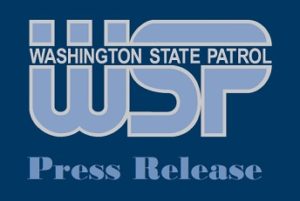 Just after 2:00 a.m. on Sunday, February 27, 2022, Washington State Patrol (WSP) communications received a 9-1-1 call reporting a collision NB SR-167 just south of 212th in Kent, Washington.
Once troopers arrived they discovered a vehicle off the road and on fire. Thankfully the three occupants were out of the vehicle at this time.  Further investigation revealed that a white vehicle was traveling at a high rate and struck the victim vehicle causing it to leave the roadway and strike a tree at which time it caught on fire.
The causing vehicle was a white sedan and it fled the scene after causing the collision.  A passenger in the victim vehicle suffered a broken arm and the driver sustained an arm laceration.  The victim vehicle is pictured below which is a silver Mercedes Benz sedan.
WSP detectives are seeking anyone that witnessed or has information on the white sedan that caused this collision.  The driver is being sought for felony hit and run.  Please contact Detective Medeiros at [email protected].
---
The above is a press release from the Washington State Patrol. The individual(s) referenced in this release are considered innocent until proven guilty. Charges can be amended or dismissed. The Auburn Examiner has not independently verified the contents of this release. We encourage our readers to personally verify any information they find may be overly biased or questionable. The publication of this release does not indicate an endorsement of its contents.