By Elizabeth Miller
The Auburn Police Department is seeking the public's help identifying a robbery suspect.
On 2-25-18 an unidentified suspect robbed two Subway restaurants.  The first restaurant was located in Federal Way, the second in Auburn, located at 47th and Auburn Way N.
During the First robbery in Federal Way, the suspect kept his hands in his front pockets, giving the appearance to those in the store that he may be armed.  During the Auburn store robbery, the suspect produced a semi-automatic handgun and fired one round inside the store. Though no one was injured, this individual should be considered armed and dangerous.
The suspect is described as a White or Hispanic male in his mid to late 20's.  He is approximately 5'-10" tall with a medium build. Still of the suspect from store surveillance are provided below.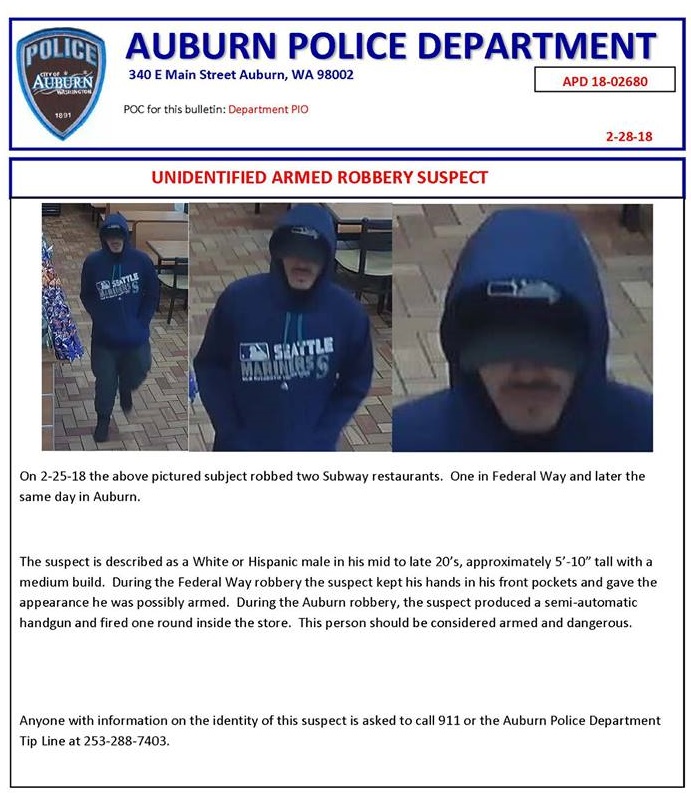 Anyone with information on the identity of this suspect is asked to please call 911 or the Auburn Police Department Tip Line at 253-288-7403.