We have just been informed that Washington Sam's Clubs will be closing.  A Sam's Club representative confirmed these closing are a part of a larger country-wide store closing.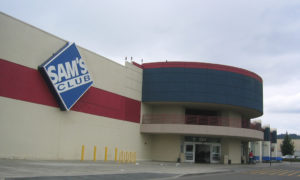 The Auburn Sam's Club is closed today, January 11th,  so that meetings with employees could be held to announce the store's closing.  The store will reopen tomorrow at 10:00am.  There will be a sale on select merchandise at the closing stores.
The Auburn store will officially close on January 26, 2018.  Until then the store will have limited hours.
An employee meeting was held today to inform employees of the pending closure.  Employees will receive severance packages.
One twitter user expressed their dismay at the lack of notice given to employees.  Sam's club responded
"After a thorough review of our existing portfolio, we've decided to close a series of clubs and better align our locations with our strategy. Closing clubs is never easy and we're committed to working with impacted members and associates through this transition."
When asked about memberships on Twitter, Sam's Club responded that: "Your membership stays active and we hope you will continue to shop with us at another location and on http://samsclub.com"
Members can cancel their membership online or in the store.
Sam's Club has made no official statement confirming the closing of the stores; Business Insider has a list of Sam's Club stores closing.  The Auburn store is on that list.  A list, utilizing employee reporting, includes more Washington stores.  No stores were found within 50 miles of Auburn on the Samsclub.com store locator. 
UPDATED: Friday January 12, 2018 10:15pm