Auburn police blotter for April 30, 2022. As a reminder, the incidents in these blotters are not all of the incidents or community contacts that Auburn police officers responded to on the listed day.
Want to know what our fire department has been up to? Check out the latest VRFA Blotter here.
These blotters often include domestic violence and mental health-related incidents. If you or someone you know are in crisis or need help, please reach out: https://auburnexaminer.com/crisis-resources

 Saturday, April 30, 2022
Sat Apr 30, 8:52 a.m. 2022 PDT Two previously stolen items out of Tacoma, an excavator and trailer, were both recovered in the 2919 block of West Valley HWY N.
Sat Apr 30, 9:44 a.m. 2022 PDT A stolen Ford F250 was recovered in the 3700 block of R St SE.
Sat Apr 30, 9:58 a.m. 2022 PDT A stolen vehicle was recovered in the Muckleshoot Casino 2402 Auburn Way S.
Sat Apr 30, 10:47 a.m. 2022 PDT An order violation was reported in the 11200 block of SE 313th Pl.
Sat Apr 30, 11:46 a.m. 2022 PDT An attempted burglary occurred at Clean Wheels 220 Auburn Way S.
(…seriously? The police station is 3 blocks away dude.)
Sat Apr 30, 12:17 p.m. 2022 PDT An assault on a child was reported in the 2511 block of D St SE.
Sat Apr 30, 2:24 p.m. 2022 PDT A vehicle theft occurred in the 0 block of A St SE.
Sat Apr 30, 2:43 p.m. 2022 PDT A domestic dispute with vandalism was investigated in the 3400 block of I St NE.
Sat Apr 30, 5:13 p.m. 2022 PDT A no-contact order violation arrest occurred in the 2400 block of F St SE.
Sat Apr 30, 7:36 p.m. 2022 PDT Shoplifting, assault, and trespass occurred at Sally Beauty 1307 Auburn Way N.
(They're in for a rude awakening when they see the product available in jail. Rude awakening for them and their roots).
Sat Apr 30, 8:11 p.m. 2022 PDT A domestic violence assault was investigated in the 300 block of 17th St SE.
Sat Apr 30, 8:28 p.m. 2022 PDT Vandalism was reported in the 31600 block of 119th Pl SE.
Sat Apr 30, 9:33 p.m. 2022 PDT An adult female was transported to MultiCare Auburn Medical Center for mental observation.
Sun May 1, 1:16 a.m. 2022 PDT A felon was arrested for unlawful possession of a firearm in the 1500 block of A St NE.
(Yes, they weren'ts upposed to have it. But at least it didn't get lost or stolen. Sure it may be lost or stolen…)
5 days since a U-haul theft was in the blotter*
Longest streak: 25 days
Previous streak: 5 days (new streak began 4/25)
---
Top Reported Crime in Auburn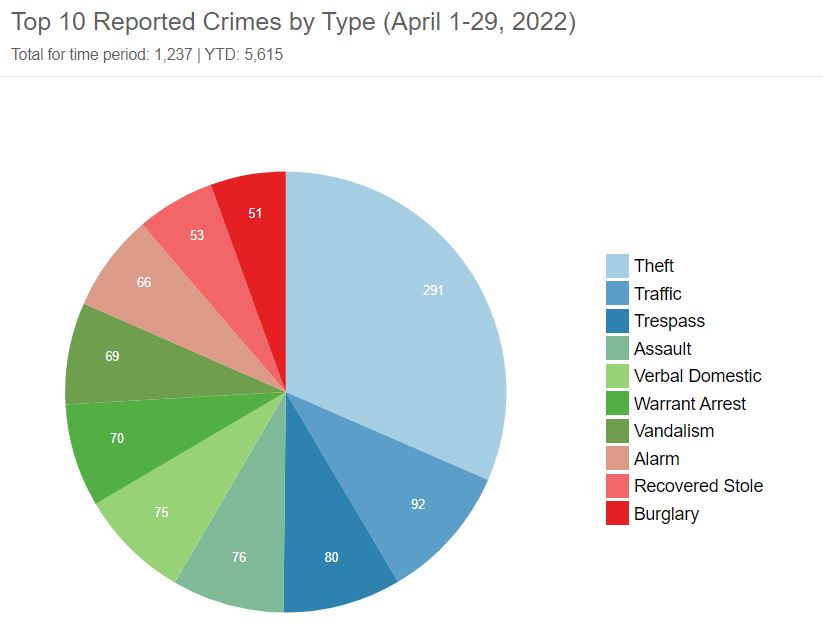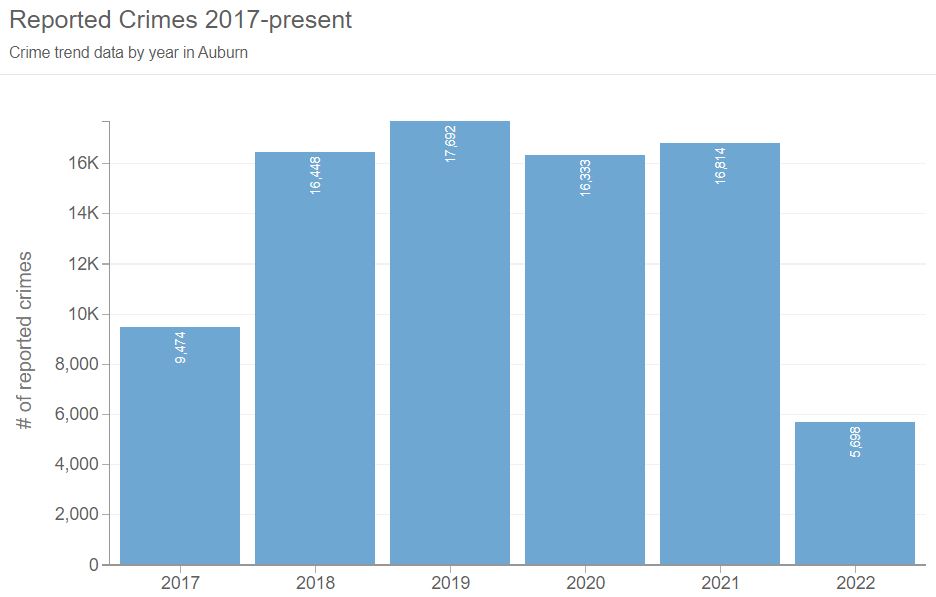 City of AuburnIf there is an incident that you would like more information on, whether it is listed here or not, please email us (email now). We will do our best to get more information and provide updates but we make no guarantee.
Always remember: If you see something, say something; 911 first, Social Media second. Here are some tips you choose to document police activity.
If you need to file a police report, and the matter is not an emergency, and you do not have suspect information (e.g., your car was broken into), you can easily file an online report here. If your home or business has a security camera, consider registering it with the voluntary Auburn Police Camera Registry.
Disclaimer: Arrest and incident reports are released by the Auburn Police Department. The individuals referenced in this blotter are considered innocent until proven guilty. Charges can be amended or dismissed. The Auburn Examiner has not independently verified each incident included in this blotter. We encourage our readers to personally verify any information they find may be overly biased or questionable. The publication of this blotter does not indicate an endorsement of its contents.
All commentary written in parentheses is opinion and for entertainment purposes only. *Not sponsored.